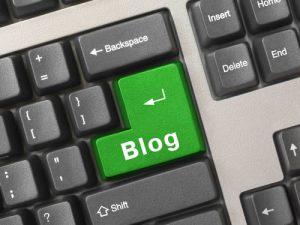 Getting started with a blog for your business is a worthwhile use of your time and effort. Choosing a blogging platform is the first step in getting started. I highly recommend that you go with a 'hosted' site, rather than one that is on a free platform. The one used by the majority of people working online is WordPress.org.
The hosted option eliminates the hassle of finding a host for your blog as the company takes care of that for you.  This option would cost you a monthly or annual fee.  I've used both Blue Host and Host Gator to host my WordPress sites, but have now switched over to Liquid Web for all of my blog hosting because of recent changes in service and performance with those larger companies.
What you want to completely avoid is a free blogging platform, such as WordPress.com, Tumblr.com, or Blogger.com. I compare this to setting up a lemonade stand on the corner as opposed to leasing a space in the mall. You're setting up a blog for your business, not for a hobby that may go by the wayside in the future.
WordPress.org is the other blog platform you should know, which is a standalone option.  If you are already hosting some of your websites with a web host, WordPress.org is ideal for you.  Not only is WordPress.org free for unlimited use, but it is the best-supported blog platform there is.  For ultimate control of your blog, this is as good as it gets.  It is the blog platform of choice of today's savviest bloggers.
Visit the sites I've mentioned above and if you're going for the hosted option, simply sign-up for an account and you'll be ready to start blogging immediately. It's truly a simple process to set up WordPress through your hosting account, and they will be happy to help you to do it quickly and easily.
Choosing a Name for Your Blog
If you already own a website, you understand the significance of choosing a good domain name.  A good domain name not only enhances the branding of your business and makes it easy for your readers to share with others.
If your blog is going to play a significant role in your business, then spend some time choosing the right domain name for it.  People tend to remember memorable domain names that end with a dot com to spread it around easier. I recommend using GoDaddy as the registrar for all of your domains. I currently own almost six hundred domains and appreciate how they are handled through this company.
Choosing a Template / Theme for Your Blog
With the free platforms like Blogger.com and WordPress.com, the need to hire a Web designer is eliminated.  These options already have blog templates (often called "themes") ready for use.  Just pick a design that works well with the theme of your business and get ready to start blogging. The downside to this is that there is only so much you can do to alter its look and feel.  What you see is what you get.
With WordPress.org however, you're free to hire a Web Designer to design the style of your blog from the ground up.  There are no limitations to what you can do with your design.  There are WordPress.org templates that are also freely given away by the WordPress community with no strings attached.  You have full rights to grab any of these templates and alter them to suit the theme of your business blog.  If you need a recommendation for someone to help you set up a WordPress blog that's exactly what you are thinking of, contact me and I'll give you some names of the people that have helped me with my sites.
You can search on Google "Wordpress themes" and you'll get a variety of sites to choose from.  One of the more popular ones is found at http://themes.wordpress.net.