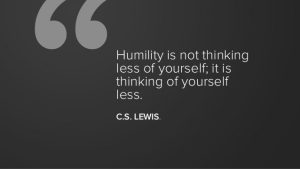 There is a scene from the movie "Runaway Train" that made quite an impression on me when I first saw it back in 1985. Two men have escaped from prison and dream of a life of freedom. Eric Roberts' character Buck) tells Jon Voight's character (Manny) about how he's going to do things "his" way now that he's broken out of prison. He dreams of the "big score" he could make from a robbery or bank heist. Buck goes on and on until Manny stops him and tells him a story.
It's a story about how Buck should get a job and how he must humble himself to anyone who would be kind enough to give him one. He goes on to say that if he can do this he could be the president of Chase Manhattan Bank or other corporations. Buck then asks Manny why he doesn't do that himself, to which he answers "I wish I could". This three minute scene is so powerful and portrays the most desirable of all human traits, that of being able to humble yourself to others and expose your vulnerabilities.
So, how do we use this as a part of our businesses? I recommend starting with pure, unadulterated honesty. From the first day I started my online business I told my community where I was in the process of becoming a successful entrepreneur. This included sharing how many people were on my list, what I was doing each day that was working for me, and if I knew the answer to their question or had to research it first. If I encounter someone who knows more than I do, and this happens quite often, I defer to them and ask them to share their knowledge and expertise. And it doesn't matter if they are newer than I am, or younger, or anything at all. Instead, I make every effort to treat everyone as an equal and a partner in this wonderful world of online marketing. I still grant interview requests to people I have never heard of and reach out to people I do not know. And ninety-nine percent of the time this works out in a collaborative way that is good for both of us.
How can you humble yourself to others as you build your business? Ask people for help. Social media has been good for this purpose. Ask people for recommendations. When I needed help with the technology for my podcast, I asked someone who interviewed me for his new podcast for assistance and he shared his team with me. Share your failures along with your successes. People used to be surprised when I told them a product or a course or an idea I had did not succeed. Now they look forward to learning along with me from what does not work as well as what is working extremely well. And if I am wrong about something – anything – I take the time and make the effort to apologize.
Be human and humble yourself in front of your community and you will reap the benefits forever.