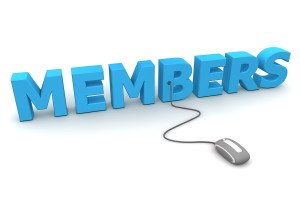 I started my first membership site in 2008, even though I did not have a membership site set up officially. Instead, I simply asked the people who were attending my weekly teleseminars and purchasing products from me – either my own or affiliate recommendations – if they would like to have ongoing access to everything I was offering for one low monthly fee. I still have many of these people in my program, and I continue to include them in trainings that I charge considerable more for those who come into them now. I learned how to do this from Jimmy D. Brown's monthly training program.
My thought was that it would be much easier to build a community of students who would look forward to my next course or product, instead of looking for new people each time I had something new to offer. I had read about the concept of 'raving fans', and wanted to make that a part of my own business model.
Soon after I set up a membership site in order to deliver the content to my monthly members, but it can certainly be done on a much simpler basis. Imagine having a group of people who spend $20, $50, or even $100 a month for access to you and your training, while all you need to do is to continue to provide good solid information that can also be sold as stand alone trainings or products. That's exactly how it works.
It is much more difficult to get a new customer than it is to keep a current one. Take a look at the training I received on exactly how to do this. Instead of earning money just once from everything you do, earn money month after month as residual online income. This just makes sense!
Connie Ragen Green is a bestselling author, marketing mentor, and online marketing strategist, working with people and corporations on six continents to help them increase their credibility, expand their visibility, and explode their profitability. If you're interested in getting started with the journey to online entrepreneurship and taking your life to the next level, find out more by downloading your Online Entrepreneur Blueprint and get started today.