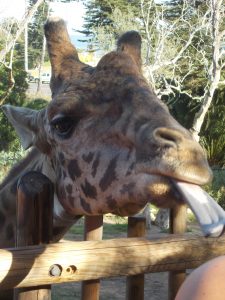 The Santa Barbara Zoo giraffes are amazing. This past weekend I went to see the two newborn giraffes at this zoo twice. As this adventure unfolded I came to think of what the zoo has done as the 'marketing of the giraffes' and will share this brilliant strategy with you.
The Santa Barbara Zoo is gorgeous. It is also very small. The children in the area get to visit with their class once a year, just as we did at the Los Angeles Zoo during the years that I worked as a classroom teacher. Most cities this size (about 100,000 people) do not have a zoo, so just the fact that they have one took great effort. This zoo, located on thirty acres adjacent to the beach, was first opened in 1963 on a private estate and known at that time as the Child's Estate Zoo.
First, I'll share a little history about the giraffes here in Santa Barbara. This zoo originally exhibited Baringo giraffes, but in order to maximize genetic diversity within this sub-species they now exhibit Masai giraffes. This is part of an agreement with many zoos on the West coast of the United States, as a way to perpetuate the species without having to transport the animals at great distances. However, the father of these newborns, Michael, was transported from his home in Toronto, Canada to Santa Barbara about a year and a half ago. I heard that they constructed a special vehicle so that he could stand up for the forty-eight hour drive.
Now the group includes Michael; Betty Lou and Audrey, the five year old females; Dane, Audrey's son; and Sunshine, Betty Lou's daughter. Dane was born on April 18, 2013, and Sunshine arrived on April 28, 2013. This makes Michael the most genetically viable male Masai giraffe in North America at this time.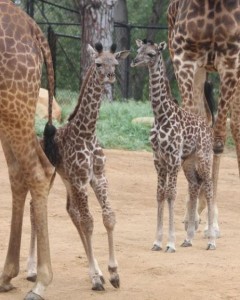 The Santa Barbara Zoo does an excellent job of getting the word out to the community about what is going on with the animals there. There isn't a child in town who doesn't know about the two newborn giraffes, and most adults in the greater Santa Barbara area are also aware of what is going on surrounding this. Talk of these two blessed events is in the newspaper, on the radio, and in the local magazines. The Zoo's website is updated regularly with information on the new arrivals, with pictures, names, dates, and height and weight information. Their goal is to get the news out to the people in a way that will make them want to stop by and see for themselves what all the fuss is about.
When you arrive at the zoo there are lots of people and numerous signs to direct you to the giraffe's exhibit area. For an additional fee (six dollars) you may feed Michael, the male giraffe, with the help of one of the staff. The gift shop has giraffe stuffed animals, figurines, hats, shirt, tails (very cute!), post cards, and more. I refer to this as the 'marketing of the giraffes' and it is an excellent strategy.
In addition, the staff is trained and updated regularly as to what is going on. I was there for a private event with Rotary on the first evening, and that's when I observed a group of zoo employees being briefed on which information to share with visitors, how to anticipate their questions, safety concerns, and more. This makes the experience so much more enjoyable for everyone, especially for the animals, whose health and welfare must be of the utmost concern.
This reminds me of what we do as online entrepreneurs to build our businesses. We go to where the people are, on social media sites and searching on Google and Bing, and invite them to come back to our blogs, our websites, and our events. We may not have anything as exciting as a newborn giraffe, but we can be just as enthusiastic about what we do have to offer the world. If even one person benefits from one of your products, services, trainings, or coaching then you will have a great impact on their life. We can all take a lesson from the Santa Barbara Zoo giraffes marketing success for our own online businesses.