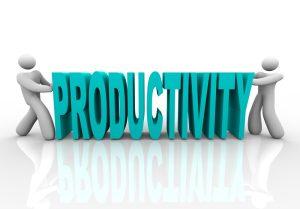 Productivity Challenge 2015 Begins!
I thought I would begin my fifth annual Productivity Challenge (2015 promises to be the best ever!) by sharing a post from the Invoca Blog. Invoca is a software company in Santa Barbara. They develop inbound call technology that generates phone numbers for telemarketing, then routes and tracks the calls and sales that result. In a recent blog post they outlined 11 Easy Tips Guaranteed to Prevent Productivity Burnout and I have to say this list is an excellent article.
Tip #2 discusses the concept of 'talking out loud' and they state: "Getting your story right takes practice, and it's not going to come out right the first time. The best way to hone your message and your story is to verbalize it and talk it through with people." This continues to work well for me in all situations.
Tip #11 is to be proud of what you have accomplished and they write: "Don't forget to be proud of your work. If you aren't excited about your work, no one else will be, and it will suck the motivation right out of you for future projects. Take pride in what you did well, and know that you always have another chance to improve. Perfectionism is your enemy! It's amazing how much your productivity will change with the right mindset."
With this we begin year number five of my annual Productivity Challenge. 2015 can be your best year ever if you set and achieve the goals you have designed for yourself. If you would like to participate in this 30 day challenge please leave a comment below, along with a goal you will be working on. The community is where you are encouraged, ask questions, and take action on what you want to do while sharing it with others who are reading this blog.
Jason Fladlien's 'Double Your Productivity' training is available at a special discount right now by clicking on the words above.
Day 2 – Take an honest look at your online business to determine what you have in place and what you still need to set up. These are some things you will need in order to get started:
Hosted WordPress site – If you need hosting, I recommend Blue Host; if you need domains, I recommend GoDaddy (my discount link).
Separate optin page(s) – You want to attract people from a variety of demographics.
Free Giveaway – Put together a short report or audio that will be irresistible to people searching for information on your niche topic.
Something to sell – In the beginning this will most likely be an affiliate product, then after you learn more you will want to begin creating your own line of products and even a coaching/consulting/mentoring program as a part of your inventory. Take it at your own speed and know that everything is possible when you continue to take action on a daily basis.
Day 3 – Content Marketing is the fastest way to making a name for yourself online and for getting your message out to the world. With your blog being your 'Home of the Internet', blogging regularly becomes the method that will allow you to find your voice and get people interested in you and what you are doing. This has led to authorship for me, which has helped me to grow my business exponentially over the years. You may also create content with videos, audios, and by speaking and presenting in person. I continue to engage in all of these strategies to grow my business. What are you doing to create content regularly? (On Day 18 I go into greater detail as to how you may create fresh, relevant content on your blog to grow your business quickly and effectively, while also increasing your credibility over time.)
Leave a new comment here to tell us more about your blog and your niche topic.
Day 4 – Mindset is the most important part of entrepreneurship, yet few people are taking the time to get their heads around this. I like to have quiet time each morning and evening to reflect upon my goals. Some people call this prayer or meditation, but I find it is all quite similar as we ask for guidance in our daily lives. Understanding your purpose in life and expanding that to include your business goals and aspirations is crucial to your success, in my honest and humble opinion.
Remember Tip #11 from the post I curated on Day 1 from Invoca – 'Perfectionism is your enemy!'
I also read inspirational, motivational business books and listen to books on tape. The book I am reading right now is called The Lean Startup: How Today's Entrepreneurs Use Continuous Innovation to Create Radically Successful Businesses by Eric Ries.

What are you doing to improve your mindset? What are you reading?
Day 5 – Let's Get Social! The world has changed since I came online back in 2006. Now we have access to the world every moment of the day through social media, and it's an excellent idea for you to be connected everywhere for maximum results. Here are the sites that I find most helpful in growing my business:
Twitter – I'm ConnieGreen on Twitter
Facebook – I'm ConnieRagenGreen on Facebook
LinkedIn – I'm ConnieRagenGreen on LinkedIn
YouTube – I'm ConnieRagenGreen on my YouTube Channel
Instagram – I'm ConnieRagenGreen on Instagram
Pinterest – I'm Connie R Green on Pinterest
It is now easier than ever to stay connected with your prospects, customers, and clients on a daily basis through social media, without having to actually be there in person every day. At his very moment someone is watching my videos on YouTube, reading my latest post or tweet or photo, or perusing my profile over on LinkedIn. When people tell me I am everywhere, this is typically what they are referring to. You can increase and enhance your visibility exponentially through the appropriate use of social media channels.
Where can we find YOU on social media? Let us know so we can friend/follow/connect with you.
Day 6 – How and why have you come to be in the niche you have chosen? If you're still deciding on a niche, how may I help you with this? I started out by helping others to write, edit, and market eBooks online, because my experience as a classroom teacher made that an obvious choice. Within a couple of years I was confident enough to move into the online marketing niche.
Visualize a three circle Venn Diagram, where the upper left hand circle is for your passions, the right hand circle represents your life experiences and education, and the bottom circle stands for the marketplace. Where these three circles come together is your 'sweet spot', which means that what you love and what you have knowledge about meets the market to sell your products, ideas, information, and training. This will serve as a guide to help you get started off in the niche that will serve your needs as an online entrepreneur.
Let's have a discussion on this topic in the comments area.
Day 7 – What's for sale? This may seem like a rhetorical question, but your answer is telling when it comes to online entrepreneurship. If you are in business you must have inventory to sell. I have almost forty of my own products, courses, books, and trainings, as well as my ongoing Mentoring. What do you have for sale. Without including any links, give me an idea of what potential clients are able to purchase from you directly or through your affiliate links right now.
Day 8 – Affiliate Marketing is the business model of recommending what you use, benefit from, and love to others. Which affiliate platforms do you prefer, and are you an affiliate for my Really Simple Podcasting course?
Affiliate marketing continues to account for almost half of my income each month. What do you need to know about this excellent business model?
Day 9 – Your Mission Statement defines the reason you are in business. Mine is that I help new online entrepreneurs to choose a niche and a business model based on their interests and experiences where they will be able to serve others who are looking for solutions to their problems in this area. Think about the people you wish to serve and how you will help them to achieve their goals, based on your own interests and experiences. Share your Mission Statement with us in the comments below.
Day 10 – Becoming a local celebrity is something that I've taught for years now. I did this inadvertently when I first came online, and now I do it intentionally to build my credibility and increase visibility. This is what I recommend:
Reach out to the local newspaper and magazines in your city and offer to write a regular column on your topic.
Contact the local radio station(s) to see if you could be a guest on one of their shows.
Connect with local business owners by attending meetings of the Chamber of Commerce, service organizations, and non-profits.
Volunteer with at least one non-profit whose Mission Statement resonates with you.
This is how I got started in Santa Clarita, California nine years ago, and now I'm doing the same thing in Santa Barbara. This has led to massive exposure in both cities, and opportunities to be a part of groups and projects that continue to help me build my business. You can do the same thing if you're willing to take the time and make the effort on a consistent basis.
Day 11 – Leverage your voice when it comes to building your list and increasing your credibility and visibility. When we simply write email messages and social media posts to our prospects we remain flat and one dimensional. By allowing others to hear our voice, with all of its inflections and mood, this fleshes us out and we are preceived in a much different way. I use Instant Teleseminar for this purpose and have done more than ten thousand hours of recordings over the past nine years. You may hear my most recent recording at Ask Connie Anything. I also host two podcasts that are available on iTunes.
Let us know where we may hear your voice, whether it is on your podcast, a teleseminar, a webinar, or somewhere else.
Day 12 – Attending live events is the fastest way to make a name for yourself and your business. I host two of my own live events each year, as well as three or four smaller ones in Santa Barbara that I refer to as 'retreats'. I also speak at and/or attend anywhere from five to ten other events each year to connect with people and keep current with my industry.
In the very beginning I was reluctant to spend the time and money to go to live events and workshops because I thought it was cost prohibitive; soon I found out that it was well worth the cost of the event, the airfare, the hotel, and the other expenses because my return was so great.
Are you attending live events to grow your business? Give us some details about the events you attend and what you look for before you decide to commit to attending someone's event.
Day 13 – Working with a Mentor changes everything and shows you are serious about growing your business. I continue to work with Mentors and know that I will always have much to learn and improve upon as an entrepreneur. I also run a successful Mentor program of my own.
Are you working with a Mentor currently? What does that look like in your business?
Be sure to leave a comment and let us know where we may find your blog or website. And I promise to answer all of your questions personally. Please introduce yourself!
Day 14 – Writing a book on your topic has become a necessity as the Internet and online entrepreneurship gets more and more competitive. I continue to teach people how to do this as a part of my Write. Publish. Prosper. course and bestselling book, and you can do this successfully when you know how. Creating a focused and organized outline is the key to success with this, and I now have eleven books to my credit.
What questions do you have for me in the area of authorship for entrepreneurs?
Day 15 – Creating information products does not have to be a difficult process. Simply interview people on a topic of interest to your niche and sell the recordings; write a short eBook or report that teaches one aspect of your topic; or host a webinar where you teach people who to do something of benefit to them. These are three ways to create your own information product quickly and easily. Later on, as you progress as an online entrepreneur and become more sophisticated, use these first products as bonuses for your newer ones.
You have now made it to the halfway mark of the 2015 Productivity Challenge – congratulations!