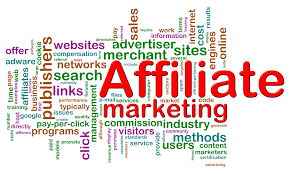 Affiliate marketing can best be described as recommending what you use and love to others who would benefit from the same products and services, in return for a commission each time a sale is made. You can build an entire business using affiliate marketing as your business model, or simply add it to what you're doing already for an additional stream of passive online revenue.
My new course on this topic is now available at Really Simple Affiliate Marketing, and is designed for newbies as well as intermediate Internet marketers.
I believe the best way to build a lucrative affiliate marketing business is by building a list from the very beginning. Start with a simple blog or one page website where people who are interested in your topic can go to find out more information. You will offer these visitors a free report or an audio recording where they can find out even more about you and your topic. When they enter their name and email address they will now have given you permission to include them in future mailings.
As soon as the first person joins your list, start writing to them to better connect with them and to find out more about what they want and need from you. This will be similar in any niche you choose, so jump right in and get started. Too many people make the mistake of waiting until they have a specific number of people on their list before starting to send emails. This is a huge mistake. Start the process immediately and you will build your business much more quickly.
Look for the products and services you have been willing to spend money on yourself when it comes to making affiliate offers to your list. Remember always that you are only recommending what you love, so look to see what you have purchased and benefitted from so that you can share these valuable resources with others. Write an article, post to your blog, and tell others about them on the social media sites. When others see that you are a raving fan they will be more likely to take you seriously when it comes to making an investment of their own.
As you get more experienced with this you'll be able to be more picky when it comes to who and what you will promote. With so many great products and services now available online there will never be enough time to share them all with the people who come to you for a recommendation.
Take your job seriously and you will see that being an affiliate marketer is a worthwhile position. Be sure to check out my new affiliate marketing training course below.

Connie Ragen Green is a bestselling author, marketing mentor, and online marketing strategist, working with people and corporations on six continents to help them increase their credibility, expand their visibility, and explode their profitability. If you're interested in getting started with the journey to online entrepreneurship and taking your life and business to the next level, find out more by downloading your Online Entrepreneur Blueprint and get started today.