Recently I returned to California after spending almost a week in Park City, Utah for the most incredible
conference related to the film industry. It was the end of autumn for this region of Utah, and colorful leaves were falling from the trees and the air was turning crisp. After enjoying this gorgeous weather for the entire week, it all changed just an hour before my flight was scheduled to take off for California. The rain was coming down hard, the temperature dropped substantially, and the announcement was made that our flight would be delayed by at least a half hour.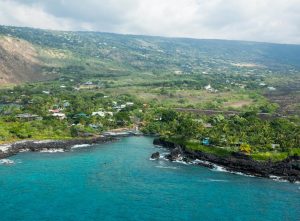 I truly enjoy talking to strangers, and it turned out that quite of few of my fellow passengers were en route to Kona, Hawaii. They would change planes in Los Angeles and arrive on the "big island" of Hawaii just in time for a late supper at the beach. Each person I spoke with had a different reason for their visit to Hawaii, all the way from a family vacation that included a grandmother who had never flown on an airplane to a couple who were going to serve a one year mission as their service for the Mormon church. Lots of young children were headed there as well, and I loved hearing them explain to me what it would be like once they arrived in Kona. Excitement was in the air, most definitely.
That all changed as we were delayed even longer with this shift in the weather. By the time our flight was airborne the pilot announced that the gate in L.A. would be unable to hold their plane and that they'd have to wait until the following day to fly over from the mainland of California to Hawaii.
No one ever wants to hear this kind of news. And it's no ones dream to spend the night in a hotel in Los Angeles instead of in Hawaii at the beach.
I pride myself with being a problem solver, and went over some scenarios in my mind.
What if…
…we made up lost time in the air? (We did)
…the people at each of the gates could expedite the process? (They could)
…everyone on my flight cooperated and allowed the 32 Hawaii bound passengers to disembark first? (They could make an announcement when we landed)
The first two of these scenarios did indeed occur. The third did not, and when that little "ding, ding" sounded 199 passengers got up in unison to get off the plane. My heart sank.
Now if you're in first class, or in the ten rows behind first class then you're in pretty good shape. If you're in row 38, then not so much.
I waited for the pilot or a flight attendant to make an announcement. Nothing. And that's when I climbed atop my seat in 12C and took over the plane.
This was a Boeing 737 – 800 series and one of my favorites when I fly. I know a few things about them and one is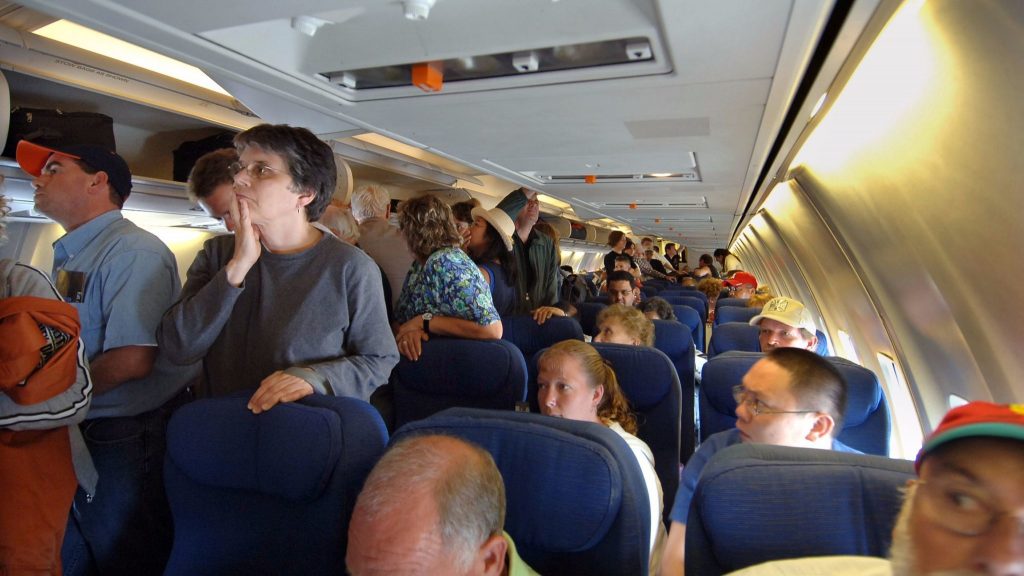 that the acoustics are such that sound travels well (too well at times) from the front to the rear. My voice carries (too well at times) and I can be heard if need be.
So from my vantage point and with my most powerful and authoritative speaking voice, I stood up straight and tall, made eye contact, and pleaded my case. I began by saying,
"Everyone, I need your help."
I asked them to allow the people who needed to make their connecting flight to gather their things and make their way down the aisle, and for the rest of them to please sit back down. In less than five and a half minutes all thirty-two of them (and not one more) were headed down the ramp, into the terminal, and on towards their departure gate.
By this time we were all cheering them on, wishing them fun times in Hawaii, and finding the greatest joy in working together as a team. I had the greatest joy in seeing the little children scamper down the aisle, their stuffed animals and backpacks in tow.
And as the rest of us gathered our belongings and exited right behind them the pilot announced that they were boarding the plane and none would miss their flight to Kona, Hawaii. And then the whispers began and soon he added "and thanks to my assistant in 12C for stepping up." I teared up a little (okay, a lot).
Why am I sharing this story with you today?
Because how you do anything is how you do everything. Twelve years ago, before I came online as a brand new
entrepreneur I may not have had the courage to do anything like this on an airplane. These days, I seek out and attract as many opportunities like this one as I can. I like to think I've been building up to courageous acts such as this one for many decades of my lifetime.
Several people have written to me about this incident after I shared it with my community. They questioned the actions I took and wondered if I could have been perceived as a threat in some way, to a person or people on that flight, to the airline, or to the country and our national security. I will answer this question by sharing another story with you…
First of all, I like to think of myself as a conscientious, law abiding citizen. If the pilot or a flight attendant had asked me to sit down, stop talking, or to do something besides what I was doing I would have obeyed and ceased pursuing my mission immediately.
In 1986 I became a public school teacher in Los Angeles. For twenty years I taught children from the inner city, living in conditions and situations most of us could not even imagine. During the fall of my first year in the classroom I decided to spend time with my students outside of the classroom. These children were ten to twelve years old, yet few of them had ever been to the beach, to a professional sporting event, or to a live musical or artistic show. I decided that almost every week throughout the school year I would take four boys or four girls somewhere in the city to see and experience something for the first time.
The girls were invited to my home on a Friday after school for dinner, "camping" in tents and sleeping bags in my living room, and out to breakfast on Saturday morning. The boys were invited to Laker basketball and Dodger baseball games, where I also invited an adult male companion to chaperone. Over the years I took hundreds of kids to the beach, to the movies, to art exhibits, to museums, and to Disneyland. All of our lives were enriched by these activities and outings.
Yes, on day one I was warned against doing these things. Other adults attempted to instill fear in my heart and mind with stories of what could possibly happen. I took a hard look at what I wished to achieve, made a list of the pros and cons, and decided that I would and could include these children for these trips.
No, nothing negative or problematic ever occurred during that twenty year period.
I had decided from the very beginning not to live my life in fear of what could happen, but to instead live with hope and joy about what was possible.
If you think back over the history of the world, it makes you wonder if some of the worst situations could have been avoided, or at least eliminated sooner if someone, anyone had just stepped up and taken a chance by doing the right thing, or at least the most logical thing in those situations. Why did slavery go on for so long when it was obviously a horrific time in our history? What about injustices to women and minorities when it comes to human rights? And in more recent times, the situation with young women and movie studio executives – couldn't someone have spoken out sooner and been backed up by others who were also affected?
I will always be the person who speaks up. If a dog is left in a car, I'll be there until the police arrive to decide what action to take. If my neighbors are beating their child, I will report it to the authorities (I'm still a credentialed teacher in the state of California and have agreed to do this within 72 hours). If someone is in need of food or shelter, I will make the calls and share the information needed to alleviate the situation. I've been in all of these situations on multiple occasions and am still saddened at how many people will turn a blind eye and do nothing.
I'm not saying that I expect others to do the same. That would be judgment on my part and that is not my intention. But if someone in need crosses my path I will not hesitate to reach out and do what I can to be of assistance. It's just who I am and for six decades this mind set has served me well as my courage and conviction has increased and I have been called to step up more often and for even bigger reasons. Part of being Connie Ragen Green is being the person who is always there to help another human being or animal in need.
What are your thoughts on this?