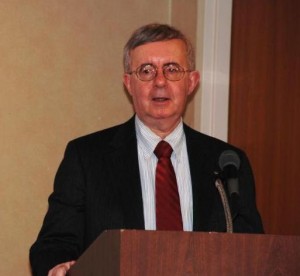 This past weekend I was one of the speakers at Dennis Becker's Earn 1K Seminar in Las Vegas. this was my second year attending this fantastic event, and the people and information shared there this time was just phenomenal. If you are able to attend next year, I can promise you it will be a game changer for your online business.
Dennis Becker's Earn 1K Seminar – Takeaways
There were so many great ideas shared here, and I am always looking for ways to improve upon what I'm doing in my own business. You may already know that I am once again hosting my own events, with the next one to be held in Las Vegas October 11-13. I have now decided to do the first day of my three day event as a Mastermind, the way Dennis has done it at his seminar for several years now. This gives people the opportunity to share their ideas, thoughts, concerns, struggles, challenges, and successes with like-minded people who are able to help in so many ways.
Dennis Becker's Earn 1K Seminar – Speakers
I knew most of the speakers already, but Justin Popovic was someone I had previously only known from being with him on a Google Hangout put together by Dennis a couple of months ago. Justin is an excellent speaker who works in the area of mindset. He really made us think when he talked about Entrepreneur Psychology: 6 Ways to a Winning Mindset. I saw myself in some of the struggles he talked about from his early days of coming online.
Dennis Becker's Earn 1K Seminar – My Presentation
This year I spoke on the topic of 'Positioning Yourself As An Authority', something that has enabled me to quintuple my income over these past few years. The steps I discussed included:
Deciding exactly what you want to be know for
Being seen in the right places
Showing your credibility quickly
Using Storytelling to connect with your audience
Becoming an author, something I've done nine times so far
Having a consistent look and feel
Leveraging the power of repurposing
The audience loved what I had to say and many of them made the decision to take advantage of the Authority Leverage System™ I offered. You'll be hearing more about this over the next couple of months.
Dennis Becker's Earn 1K Seminar – Forum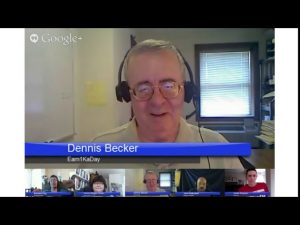 Now that the event is over, where do we go from there? Most of us who were in attendance in Las Vegas are also a part of Dennis Becker's Earn 1K a Day Forum, where we are able to connect with each other to build relationships and further our businesses. This is a safe haven for online entrepreneurs who are serious about taking their businesses to the next level. In the picture on the left, Dennis is leading a Google Hangout on mindset for entrepreneurs, where I was one of the panelists.