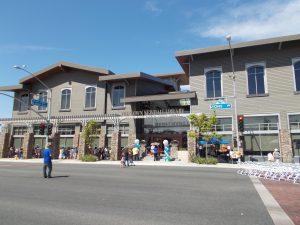 Yesterday I spent the afternoon at the library. I do this twice a month, spending one day at the Santa Clarita Public Library (that's a picture of it on the left) and another day at the library in Santa Barbara. This is where I curl up with lots of good books, doing research for my business, learning from people who have written books on a variety of topics that are on interest to me, and writing down my ideas for new information products I will create, books I will write, and courses I will teach. Library research (online marketing related) is powerful – and free!
On this most recent excursion I went upstairs and sat in front of the fireplace to look through my picks. These included Who Moved My Cheese? by Spencer Johnson, M.D.; The One Minute Entrepreneur by Ken Blanchard and Don Hutson; and For The Love of Letters by Samara O'Shea. I also checked out Shorter, Faster, Funnier: Comic Plays and Monologues, edited by Eric Lane and Nina Shengold.
The first two books are ones I have read in the past and enjoy rereading every couple of years because of their excellent business strategy. The third book is one that caught my attention after one of my students expressed her passion for note and letter writing, which has almost become a lost art.
The last book, a collection of short comic plays and monologues, is strictly for fun. This is most likely the book that will inspire me to be the most productive in my business. Yes, that's right, when you lighten up a little you are able to open up your creativity and let your juices flow.
I would encourage you to dust off your library card and introduce yourself to your local librarian, if you are not doing so already. The people that choose a career in the library system are typically well above average in intelligence, well read, and see life from a very different perspective than the rest of us. Of course, I am making a generalization here, but having grown up in a home where reading was valued more than watching television, as well as having spent twenty years as a classroom teacher, I am bound to be prejudiced.
The original ideas for much of what I have created online were born and nurtured at the library. Book stores are also a great place to spend time, but the energy is quite different, I have found.
Use your library to research your topic, discover forgotten interests and passions, and to uncover gems from people all but forgotten. Most of what I see and experience online is not original at all; the library is filled with innovation and buried treasure.