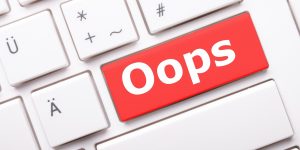 Marketing mistakes can be costly. After working with online marketers since 2006, I've seen them run into the same problem over and over again. Even though they have amazing things to offer their customers, they get stuck and stagnate.
I'd hate for that to happen to you, so let's put a stop to that right now and talk about the 3 mistakes to avoid…
Mistake #1: Not Marketing Consistently
It never fails. Most new bloggers, affiliate marketers and product sellers get excited when they start out, so they tell everyone they can about their project. But then…
They don't get the results they were hoping for and just give up.
OR
They get some good results, but fail to keep it up.
The thing is, marketing is an ongoing process, but it doesn't have to be a difficult one. It just has to be

part of your overall business plan. Each daily plan needs to include at least one marketing item, so you develop a habit and stay consistent with your growth.
Mistake #2: Being Wishy Washy
Oh yeah, I see you over there nodding your head. I get it…you're a blogger or you're a writer. You're not a marketer and the last thing you want to act like is a used care salesman. I do NOT blame you.
But the thing is, marketing is not the same as a high-pressure sale. If you do it right, marketing blends in with your content creation process. It becomes a part of everything you do. There's nothing wrong with being proud of your work and recommending it to others and that's exactly what a smart marketing plan does.
Mistake #3: Trying to Reinvent the Wheel
The world of online marketing can certainly be difficult to navigate, but what you need to succeed is right in front of you. See what is working with others and figure out how you can apply that to your own business.
Of course, sometimes that's easier said than done. How do you know what's really working and how can you apply the strategies without copying someone else?
Well, I'm sure you know that I've got your back and have the solution just right for you….
My friends Ron Douglas and Alice Seba have been at this for a long time. They know what works and what doesn't, and they're always willing to share freely.  They're the perfect example of marketers who don't sound like used car salesman, but certainly aren't wishy-washy. They engage their audiences by educating them and making them feel like they need their solutions.
That's one of the reasons they opened up DFY Templates and I'm inviting you to join me over there. Each month, they offer you their fill-in-the-blanks templates to help you get your marketing done quickly and effectively. You have full rights to edit the templates how you'd like. You can even use them with your clients or brand them and resell them.
The special charter member opportunity expires very soon, so go here now and get the lowest price possible. I want you to have instant access to your first marketing template package and let me know what you think.