Multiple Streams of Online Income

My most recent podcast is a discussion of multiple streams of online income as an entrepreneur. Here are some of the points I explain in great detail during the training call:
The BIG question is…
Are you taking advantage of multiple streams of online income? Let's talk about:

The "putting your eggs in several baskets" strategy
Deciding which business model(s) to start with first
Scheduling time to "learn" and time to "do"
What to set up first in your business
Productivity tips for multiple streams entrepreneurs
Think about each of these points, listen to the podcast, and then comment below. I would love to hear your thoughts on these ideas and concepts in regards to how adding multiple streams of online income will enable you to be a more successful entrepreneur.
I also discuss some concepts about online entrepreneurship:
Someone somewhere must purchase something for you to earn money
Your blog is your "home on the internet"
Stay focused and take action every single day
Share your best writing, information, and resources
Choose a niche and one or two income streams today
Finally, I share my thoughts and ideas on…What Do You Need For Successful Entrepreneurship?
WordPress Blog/Site
Business PayPal Account
Content Creation/Publication/Syndication Strategy
Something to sell!
This podcast training is based on my recently created Focus Guide on the topic of multiple streams of online income. Download it here and take massive action quickly for best results.
Are you ready to be surprised? Recently, I have introduced a new feature during these podcast training calls. I will always have the latest course or program, either one of my own or one offered by someone I highly recommend, at my Surprise! link. Check it out today and see what I am recommending this week. If it's not my own program, product, course, or live event then it's always from someone I know, trust, and highly recommend as a great value to you as an online entrepreneur.
My most recent book is now available. It's entitled Doing What It Takes: The Online Entrepreneur's Playbook and I'd love to hear your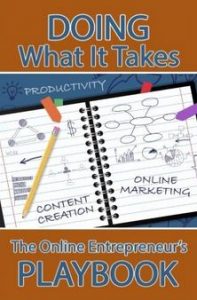 thoughts on it by way of a review on Amazon after you read it and implement my suggesstions.
Are you already a part my list community and receiving my daily email updates and training? If not, please give me your first name and primary email address in the form on the right-hand side of this site. If you are brand new to my podcasts, you will be interested to know that this specific training call, as well as all of the calls in my podcast series is intended to teach you and other new online entrepreneurs how to take your business to the next level quickly and effectively, and as a way for me to share my exact methods, techniques, Case Studies, secrets, and advice on creating a profitable and lucrative online business using the 'multiple income streams' approach. People on six continents have now discovered that starting an Internet business is the very fastest way to achieve both time and financial freedom, as well as to great success in all areas of your life, and you need help to get there quickly. That's why I started this online marketing tips podcast for my community.
You will see that each podcast session is first recorded live as a teleseminar, and then repurposed into a podcast to extend my reach to the world. Please join my list (opt in on the right) to be included on these calls, and be sure to introduce yourself and share your site for optimal exposure for years to come! Also, check out my Podcast Show Notes site to see how you can subscribe at no cost to both of my podcasts, and please leave me a review on one or both of them if you are so inclined.
If you would like to get started earning income online right away then I recommend affiliate marketing as the stream of income that will allow you to "earn while you learn" You may now pick up my popular training on winning affiliate contests and other online marketing tips for only seven dollars at Affiliate Contest Secrets. This training regularly sells for $27. Use the discount code CONTEST to bring the price down to $7. This training has been completely updated for 2016 with the latest information, strategies, and Case Studies for you to use in your own business.
Please be sure to leave your comments below so that I may get to know you better and to serve you as you continue your journey as an online entrepreneur. Getting started with an online business will change your life forever and my reward is your massive success!
Podcast: Play in new window | Download
Subscribe: Apple Podcasts | RSS