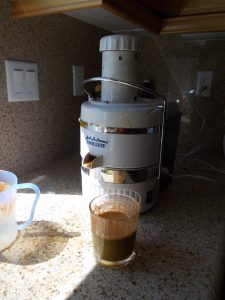 I've committed myself to doing a three day juice fast. I had watched a movie called Fat, Sick, and Nearly Dead about a week ago and it inspired me to get moving with my health and fitness regime in a bigger way. This film is a documentary and the narrator, Joe, goes on a sixty day juice fast to lose about a hundred pounds. Even though I need to lose even more than that I thought I'd better begin with something more doable for me, so a three day juice fast will suffice to get me going on this long road ahead.
On Sunday morning I ate a banana and headed out to get my fruits and veggies. I went to my local Farmer's Market to pick up everything I would need to make my juice. In Santa Clarita they only have a small one, I'm sad to say, as opposed to Santa Barbara where they have a Farmer's Market seven days a week with lots of choices and a thriving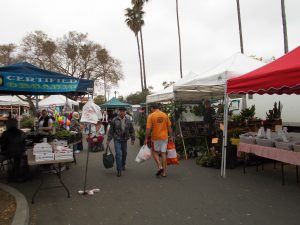 business with lots of clientele. Anyway, fifteen minutes and twenty dollars later I saw that I would have to stop by the grocery store in order to get everything I had on my list. I arrived home with five large bags containing only the fruits and vegetables I would be juicing to drink over the next three days. I was now prepared to reduce about thirty dollars and twenty pounds of produce into a gallon or so of delicious and healthy juice.
Actually locating my juicer was not as easy as I had imagined it would be. It didn't seem that long, but after enlisting the help of two family members we came to the realization that it had been almost two years since I had made juice. Where did that time go? Putting the juicer all together was a comedy of errors as I was determined to make two pieces fit together, only to finally figure out that one piece belonged to my ice cream maker. That piece had been near the front of my storage cabinet because it has not been two years since I made ice cream.
My counter was strewn with vegetables and fruit of all kinds, including apples, lemon, ginger root, cucumbers, golden beets, spinach, kale, celery, carrots, and even two Asian pears. The plan I'm following calls for approximately eighty percent vegetables and twenty percent fruits, with the emphasis on leafy greens like kale and spinach. I assembled my juicer and got to work.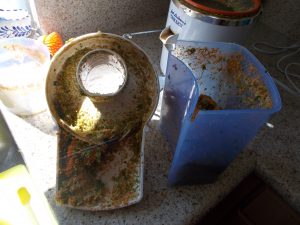 Because I have juiced sporadically over the years I was keenly aware of a few facts; juicing can be messy, so you must wear old, dark clothes while you work; it's also loud, so animals and small children must be moved to a quieter area of the house until you are finished; and, don't do too much tasting while you juice or you'll make yourself sick. I once juiced apples, carrots, and beets and drank about a quart of it while I worked. I was sick for two days and didn't make juice again for at least a month. My final tip is to use golden beets instead of red ones because the red beets can permanently stain many things.
It took me about an hour to make a gallon of juice and clean everything up. Next time (I'll need more juice by tomorrow night) it won't take as long because I will be better prepared. The juice is very tasty and I had an eight ounce glass to begin with.
So I've made it through almost a full day of my three day juice fast. My head hurts, I'm starving, and I have to stay near the bathroom. I'm going to stay positive and hope for tomorrow to be a little better. I can use your encouraging words to keep me on track and moving forward. Also, the next time someone offers you a glass of fresh juice know that it took lots of time and effort to do it and be sure to thank them profusely.
Three Day Juice Fast – Day 2
This has to be the worse day, because I can't imagine feeling much worse than I do today. My head is pounding, I forgot an important appointment, and I can't tell if I'm starving or nauseous. I still have some juice left over from yesterday and will be juicing again first thing in the morning. I'm so glad I chose a three day period where I didn't have too many demands on my time or my thinking.
Three Day Juice Fast – Day 3
Today I feel much better and it seems like the three days have flown by. I'm so glad that I did this. In fact, I still have almost a quart of juice left over and I will be starting off my day tomorrow with that, and then eating light for the next few days. I forgot how good it feels to have all of the junk food out of my system. Today when I made juice I juiced the apples first and saw the applesauce that is left behind. I cried as I tasted it. I'm definitely on my way to better health, and my mindset around this has been changed.
I'm author, publisher, and entrepreneur Connie Ragen Green and would love to connect with you. If you're new to the world of online entrepreneurship please check out my training on how to sell yourself at Sell Yourself and Your Stuff and learn how to gain an unfair advantage when it comes to building a lucrative online business.