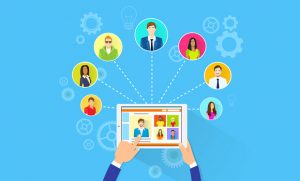 Leaders build teams. Virtual leaders build virtual teams. Virtual team building can raise the level of confidence and self esteem of everyone involved in a company, on a project, or in any group where everyone shares a common goal. But you may be wondering how team building comes into play when you are an online entrepreneur and everyone is working on multiple projects and running their businesses from various locations across many time zones.
Virtual team building takes some effort but can definitely be achieved. Even those these "teams" are fluid in that people and projects come and go, once you get into the rhythm of working this way you will benefit from what occurs. Although the teams I am involved in are completely voluntary because we are all entrepreneurs, I believe we all still benefit greatly from what occurs. Here are some examples of what I am referring to here.
As a member of Dennis Becker's Earn 1K a Day Forum I feel like I am part of that group's virtual team. Dennis is our leader, and as an excellent leader allows any of us to take the lead in an area where we are interested in pursuing. Recently I wanted to experiment with some new marketing strategies and offered one of my products at a significant discount to his members. I added a post about this in a section he calls "Special Offers" and it went out to his forum membership of almost a thousand members.
Because of the relationship I have continued to build with Dennis he mentioned this special offer within his weekly email and all team members were alerted in this way. And when Dennis has a new product offering he knows that I will be on his team to get the word out to my own community.
If you are a part of a forum or other membership site you can help to build the team with your efforts. Facebook groups might be an excellent way for you to start. I started a group called "List Building with PLR (private label rights) content on Facebook recently and the team continues to grow. Even though I am the leader I'm always looking for others to step into the leadership role to share the responsibility as well as the glory for having excellent ideas and strategies.
My own Online Marketing Incubator and Platinum Mastermind groups function as virtual teams as well. Everyone is an independent entrepreneur, yet we come together and work to maintain a professional atmosphere that is conducive to joint ventures and ongoing learning and growth. The leader's job is to always foster collaboration and free expression, in my opinion.
Virtual team building works only if you are willing to build your team and stay active within in over time. Encourage open discussions and interactions, where everyone has their say. Sometimes great ideas emerge, while at other times you'll have to agree to disagree.
I'm author and online marketing strategist Connie Ragen Green. I work with entrepreneurs to create multiple streams of online income and would love to connect with you. Pick up my Online Entrepreneur's Blueprint and get started right away.