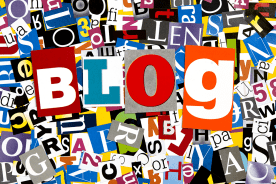 This is the second post in a series on how to update your blog – beginning steps. Be sure to read each one for best results…
Now we're going to be talking about images. Pictures are a great way to add interest to a page and enhance the content and adding images to blog posts is worthwhile. They are the perfect way to grab your reader's attention. And in an age of Facebook and Pinterest, you have to have images in your blog posts.
We'll go into a little more detail on social media in the next section, but for now, think about how you want to use images and how those images will appear when your post is shared on Facebook or Pinterest.
Different image sizes are recommended for Facebook vs. Pinterest and in general a horizontal image will do better in Facebook while Pinners seem to prefer vertical images. Think about which social media platform is more important to you and your target market. Where does your traffic come from? Actually a better question to ask is where your most profitable traffic comes from.
Once you know what social media site you want to focus on, optimize the image for that platform. In either situation it is usually helpful to text to the image. Think of it as yet another attention grabbing headline.
Not sure what I'm talking about? Head on over to Pinterest.com and take a look at images that fellow bloggers have added.
Let's talk about a quick and easy way to create these images for your blog posts. The first thing you will need is a picture. You can take your own, or use stock photography.
Here are a few of my favorite stock photo sites that you may want to check out. Some provide free images, most you will have to pay for. Be sure to read the terms for each site and know what you can and can't do before publishing someone else's picture or image.
Stock Photography Sites:
MorgueFile.com
Pixabay.com
IStockPhoto.com
BigStockPhoto.com
DepositPhoto.com
Once you have your image – be it from one of the sites above or your own pictures, it's time to do a little editing. Don't worry. We're not talking about anything complicated here and it doesn't involve expensive programs like Photoshop.
This is going to be fun and easy. There are a few sites out there that allow you to do basic photo editing. My personal favorite is PicMonkey.com. Just upload your image, change the size and resolution if needed and add some pretty text and other fun overlays and you're done.
The PicMonkey.com image editor is very intuitive. Go ahead and give it a try. You'll also be able to find plenty of online tutorials on how to do all kinds of fun and fancy stuff. Just Google it or head on over to Youtube.com for some easy to follow tutorials.
Let's get back to what we are doing here. We want to enhance our content with one or two images that will also make it easy to share on social media sites.
Think about what kind of image would go well with your content. Then decide if you want to take it yourself or find something you can use on one of the stock photography sites.
Got your picture?  Take it over to PicMonkey.com and add an attention grabbing headline. Save your work and you're ready to upload the image to WordPress or the blogging software of your choice.
Embed the image into your blog post where it makes sense and don't forget to save your changes. And remember that adding images to your blog is well worth your time.
Most of the hard work is done. There are just a few more steps we need to take to make sure we're getting the best possible results from all the hard work we've done editing, updating and rewriting our content.
Formatting Your Blog Post
Having a well formatted blog post actually has two big benefits. It makes it easier to read, but it can also help with Search Engine Optimization. SEO is a big topic that's a bit out of the scope of this short report, but I think it's important to at least mention it here.
The basic idea behind SEO is that you pick a keyword or key phrase that you would like to rank for and then optimize your blog post around that phrase or keyword. Some of the ways to do this are:
Using the keyword in your post title.
Using the keyword in the URL of your post.
Using the keyword or related terms in headings, bolded or italicized font.
Using the keywords or related terms in the file names and alt tags of images on the page.
This is just a short list, but it shows you how a well formatted post can help you get more free search engine traffic.
It bears repeating. Always, write and format for your readers first, but keep the search engines in mind as well.
With that said, take a look at your content. Do a little keyword research, if you didn't do this originally, and decide what you would like this particular post to rank for. Go through the list above and see if you are including the keyword in at least most of those areas. Don't change the URL, because it will hurt you more in terms of search than help, and make sure your content still reads well. Don't stuff your keywords in there unnecessarily. It will alienate your readers and may actually hurt you when it comes to organic search results.
Things like alt tags and image names are easy to add or change and bolding a keyword here and there won't take more than a few seconds.
Back to formatting for your readers though since that's our main goal here. Make sure it is easy to scan your post. Can your readers get a pretty good idea of what it is about by reading the headline and any sub-headings you may have?
Are you breaking the text down into small paragraphs to make it easy to read online? Are you using sub-headings and bullets to break things up and again, make it easier to consume the information?
If not, work on that now until you get the formatting where you want it. If you're not sure, ask a friend or fellow blogger to take a look at it for you. Don't worry if this seems hard at first. After you reformat a few blog posts, this process will become second nature.
Click here to read an earlier post on how to update your blog – beginning steps. Leave a comment so that others may connect with you.