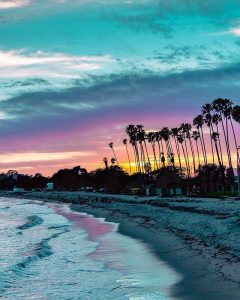 Blueprint for Entrepreneurship – Is There a Blueprint After All?
This post may contain affiliate links for products I recommend. If you click a link and buy something I may receive some compensation. This does not change the price you would pay. In fact, if you follow this post as your personal guide and blueprint you will be able to create multiple streams of online income.

About eight weeks ago, I hosted a private Retreat for two of my clients here in Santa Barbara. The weather was nearly perfect (some high winds passing through) and we were all satisfied with what we were able to accomplish during our three days together. It turns out there may be a formula, or at least a blueprint for entrepreneurship after all. My intention is to share with you the steps we covered over the three days in hopes that you will be able to take action on your own as you build and grow your online business.
My clients live in a rural area in New Jersey now, after spending most of their married life in Las Vegas. They both retired during 2012 at the age of 62. They were hoping to live off the retirement investments they had been making over the previous thirty years. But there was one problem…the Great Recession of 2008 had taken its toll and their savings had dwindled down to next to nothing.
In 2014 they relocated to New Jersey to live with their son and daughter-in-law and started working as substitute teachers. This was exhausting and they found the schools to be filled with "cliques" and the union to be less than honorable. I had similar experiences while working as a teacher for twenty years in Los Angeles between 1986 and 2006 before coming online as an entrepreneur.
Last year they came to me to learn how to earn an income online. They work hard and have now created half a dozen products, two courses, and a membership site in their niche. We took a closer look at what it takes to get started as an online entrepreneur and how to ramp up your earnings once you have laid the foundation.
Blueprint for Entrepreneurship: Step By Step
1) What's for sale? Ask yourself this question every day. Do not let a month go by without adding a new product in your business. At any given time I have more than five thousand links to my products, courses, programs, and affiliate offerings at the ready on various sites throughout cyberspace. As long as they are evergreen and I continue to drive targeted traffic to them the sales keep rolling in and I have new people to share my knowledge, experience, and expertise within my business.
2) Use PLR (private label rights) content to create your first, or next products. I'm doing that this month and continue to find this to be the fastest way for me to add new products to my inventory. These are my recommendations today:
From Trish Lindemood of Publish for Prosperity – https://ConnieLoves.me/ThreeSimpleTasks (scroll down and grab some PLR at no cost)
From Susanne Myers and Tracy Roberts of Piggy Makes Bank – http://ConnieLoves.me/PiggyFree (They have content in the areas of business, health, and personal development. Everything on that page is zero cost to you)
Here is an inexpensive training on how to create evergreen products very quickly. This is from people I know well, have purchased from, and have worked with closely, as are all of my recommendations to authors and entrepreneurs I mentor and teach.
3) Focus on building a list of targeted and highly responsive prospects from the very beginning. And writing a short non-fiction book is how I made a name for myself early on. Take a look at "30 Days to becoming a Published Author" to get you started at a reasonable cost. And if you come into one of my 10 Week Author programs later on I will give you a discount in the amount of this purchase.
NOTE: AWeber, the autoresponder service I've used for over a decade now offers a free version for you to get started with quickly and easily HERE.
4) Connecting with others is crucial to our success online. We must choose a few people to connect with and let it build to more over time.  I did this soon after coming online, and even though I am an introvert it was possible for me to connect with many others who are now friends and colleagues.
5) Start a free or low cost ($5 to $10 a month) membership site on your topic. Give members everything you've got in terms of your time, nurturing, and expertise and they will become your raving, super fans. Once you have proven yourself you may increase the price and be more strategic with your goals. I recommend:
https://ConnieLoves.me/Membercome – this is from Dennis Becker and is less than twenty dollars right now. You may also pick up the private label (PLR) rights to this training if you scroll down the page.
6) Spend at least twenty minutes EACH DAY thinking about your business plans and goals. If you're already looking for ways to get away from your business, this probably isn't for you. On the other hand, if you wake up excited by the ideas that are coming your way and you're ready to take action, you have a very bright future ahead as an online entrepreneur. This allows your mind to work "on your business" while you are not actively working "in your business" and will make a significant difference in your results.
Day 2 – Blueprint for Entrepreneurship
We once again looked at private label rights (PLR) content as the quickest way to create your first, or next product and I gave some examples of the people and products I purchase and recommend. Here is a high quality PLR package from Sharyn Sheldon. I earn lots of income rebranding her packages and selling them as my own. http://ConnieLoves.me/SharynSpecial
NOTE: I update these links regularly, so you will always be directed to pages that are current and relevant to what I am sharing within this post.
***Another way to connect is through short – five minutes or less works well – Facebook Live or other live streaming. I have just released a training called Video Live Streaming for Introverts that will be helpful to you.
7) The next step in this blueprint for entrepreneurship online is to have something to share with your prospects and clients that you may personalize. My friend and colleague Melody Wigdahl created something just for me you may download at no cost at:
https://plrofthemonth.club/forconniesfriends/?ref=conniegreen – Use Code CONNIESFRIENDS to download this "Special Mini Happiness & Gratitude Journal" for free AND take $5 off of anything else in Melody's store.
This Journal includes 4 unique templates, 30 Journal prompts, 3 unique covers, 2 interior/background images, and one "done for you" mini journal with background images in PDF format. The page templates are in pages, docx, and PDF, and come with full PLR and commercial rights. Melody is someone I reached out to earlier this year and now I am able to offer one of her hand-crafted, gorgeous products to you at no cost. The power of connecting is a super power for sure.
Another free package to share with your prospects and clients is "Precocious Pups" – 10 beautifully detailed coloring pages from Rayven Monique – Use Code PPUPS at
http://ConnieLoves.me/ColorMonthly
8) We continued to work on content creation, marketing, and syndication as both a short and long term strategy. This includes blogging at least once each week and then sharing your posts with others through a variety of methods. These include social media, third party sites where you may publish your articles, and a variety of other methods for driving targeted traffic (One Minute Free Traffic from brothers Matt and John Rhodes is new and does this brilliantly) to the content you have worked hard to create. My two main blogs are at:
https://ConnieRagenGreen.com and https://HugeProfitsTinyList.com, and I now have a third one for my more personal stories at https://MondayMorningMellow.com.
Already this morning I have shared one post from each of these sites, as well as one from Medium.com. Follow me there to see my latest updates at:
https://connieragengreen.medium.com/ and also on Twitter at https://twitter.com/ConnieGreen
Day 3 of the Retreat – Blueprint for Entrepreneurship
9) On Day 3 we worked mostly on optimizing their syndication of this content. We went into my latest product, "Syndication Optimization" and made a schedule and a plan that can easily be followed by their virtual assistant or a family member. That training is at:
https://SyndicationOptimization.com
10) The final hours of the Retreat were spent going over a strategy that allows you to better connect with your community by hosting a free teleseminar. I have used the InstantTeleseminar platform since it was first created in 2007. You may start for one dollar and you only need a phone to create messages and trainings that will build and grow your business. I have created a two page guide about this teleseminar service for you here.
I hope this step-by-step "blueprint" for entrepreneurship on the internet is helpful to you as you grow your list and your business. I have two spots remaining in my ongoing Mentor Program and then it will close again for at least three months. There will also be an increase in the investment to work with me, so time is of the essence. Email me if this is something you would like to discuss further. You will learn how to WOW your target audience and grow a business that will change your life experience in amazing ways.
P.S. I just released Really Simple SEO Tips and Keywords for Beginners. Please take a look while it's still at its introductory pricing.
**I only recommend the people and products I know, purchase from, and benefit regularly from, both personally and professionally.**