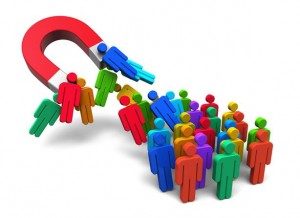 You most likely know that the people you want on your list are already on someone else's list. Instead of thinking about them as the competition I would encourage you to think of them as colleagues. Also, no one can directly compete with us as entrepreneurs because we are all unique in our thinking and approach to life and business. I prefer to use the word "coopetition" where we all cooperatively compete with one another. It's an abundance mindset where people understand that there will always be enough for everyone.
Reaching out to your colleagues to build your email list can be an excellent way for both of you to grow your businesses. They benefit by having someone to recommend to their community and you benefit from the exposure you have to the other person's list. Imagine suddenly having thousands of people visit your blog, opt in to your list, and connect with you on social media. Are you ready for that?
You must have a strategy in order to build your email list in this way. Start by making a list of everyone you can think of who is currently serving your target audience. These will be the people whose list you are already on, have written books on your topic, and who are in the public eye in some way. Do not be afraid to add the names of people who have been extremely successful for many years, as we cannot tell the story of what someone is thinking until we approach them individually.
Once you have a list of at least a dozen names you are ready to proceed. Locate the contact information for each person. It may be an address or phone number on their website or at the bottom of their emails, or it may be on social media. The law requires us to have our contact details visible on our blog, website, and at the bottom of our emails in order to be in compliance so this information should not be difficult for you to find. I would caution against contacting someone at their home address or with a personal email address or phone number because this will get you off on the wrong foot with them immediately.
Once you have their contact information, start with a short message where you introduce yourself and include a link to your blog or website so they will be able to take a look. Explain that you are looking for a way to share your information with their community and would like to explore how that could happen. If you have an affiliate program be sure to include the details of how they can become your affiliate. I have several free products a new affiliate is able to recommend so they aren't asking their list to buy anything right away.
Another way to do this is to ask each person if you may interview them. My podcasts have been an excellent vehicle for reaching out to people who are not familiar with me and this will work for you as well.
You will find that people really do want to help each other and connecting with the right colleagues to build your email list is an example of how this works to benefit everyone involved. And be sure to take a look at my Really Simple List Building training course to get started right away with these and other list building strategies.
I'm Connie Ragen Green and I work with new online entrepreneurs to help them get into profit as quickly as possible. Download your Online Entrepreneur Blueprint and get started right away.