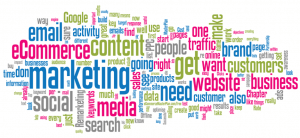 Is Becoming An eCommerce Entrepreneur Right For You?
This is a guest post on how to become an eCommerce entrepreneur by Adrienne Dupree.
If you want to become an online entrepreneur, there are a lot of business models out there. You can start a blog, create information products or even promote other people's products using affiliate marketing. You should also consider eCommerce. As an eCommerce entrepreneur, you are going to sell physical products to consumers.
There are many platforms out there to sell on such as Amazon, Mercari, Posh Mark, Etsy, Walmart, Jet, Bonanza, Shopify and eBay. I recommend starting with eBay and Amazon. These two platforms can be very similar or different depending on which model of Amazon you chose.
Amazon has 2 models – Fulfillment By Amazon (FBA) or Merchant Fulfilled. With FBA, you purchase your products and ship them to the one of the Amazon warehouses. Amazon fulfills the order when a customer purchases your item as well has handles the customer service. The great thing is your products are eligible for Amazon Prime. Customers with an Amazon Prime membership get free 2-day shipping. In the Merchant Fulfilled model and eBay, you are responsible for shipping the product to the customer as well as customer service.
There are many ways to get inventory to sell online such as Retail Arbitrage, Online Arbitrage, Wholesale and Private Label. With Retail Arbitrage, you go to stores and purchase products that you can sell for a profit. With Online Arbitrage, you purchase products from online stores that you can resell for a profit. With Wholesale, you purchase products from manufacturers or distributors that you can resell. You must have a business set up to purchase wholesale products to include a sales tax certificate. With Private Label, you are getting your own products manufactured and possibly building a brand as an eCommerce entrepreneur.
The reason why I say you should start with Amazon and eBay is because the type of merchandise that sells best on these two platforms are different. It is better to sell new items and used books on Amazon. eBay is great for used items, one of a kind items as well as collectibles. However, new items sell on eBay as well. The good thing about eBay is you can start selling things you already have around your house.
Comparison Chart for Amazon and eBay
| | | | |
| --- | --- | --- | --- |
| | Amazon FBA | Amazon Merchant Fulfilled | eBay |
| Ship Product to Customer | No | Yes | Yes |
| Responsible for Customer Service | No | Yes | Yes |
| Always Create Own Listing | No | No | Yes |
| Always Take Your Own Pictures | No | No | Yes |
| Need approval for some categories and brands | Yes | Yes | No |
| Responsible for storing products | No | Yes | Yes |
| Storage Fees | Yes | No | No |
One of the main reasons that I think you should consider eCommerce is because it is really easy to get started now. Unlike some of the more traditional methods of online businesses, you can get started without having a list. You put popular profitable products up on the marketplace and you can start making money right away when your products sell.
If you interested in finding out more about how to sell physical products on Amazon, the free report,  Learn How To Get Started With FBA Now will teach you how get started selling on Amazon even if you are brand new. This report will outline what you should sell, where to buy products and even an easy 10 step process. The good thing is that selling on Amazon can be done on a part-time or full-time basis.
Adrienne Dupree is the owner of Leave The Corporate World Behind which teaches people in corporate America how to get out of the rat race, stop trading time for dollars and how to control their own destiny by building an online marketing business. She also has a blog, How To Get Started With FBA, where she teaches people how to start selling on Amazon.