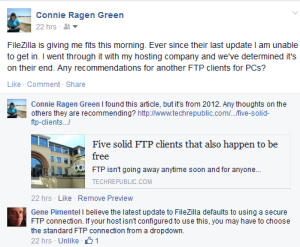 Free FTP Clients
Several weeks ago I opened up FileZilla, the program I use to upload files from my computer to my hosting account, and it wouldn't let me in. At first I was annoyed and tried to figure out what was wrong. Then I called my hosting company (Liquid Web) and they said it was an issue with FileZilla. The last update had changed the settings and it would not connect for me.
My solution was to simply use another computer I own, and sure enough, it let me in right away. I didn't give this another thought until yesterday. That's when I tried to log in to FileZilla once again, and realized that this other computer had automatically upgraded to the latest version. I was locked out of my hosting account and needed to upload the files for my Affiliate Contest Secrets product. I had spent a week rewriting it almost completely to reflect the changes for 2015, and now my clients would not be able to access the new information. What could I do?
I thought about my options. I could ask someone from my tech team to do it for me. I pay several people to do this for my business, yet I've always enjoyed the independence of having the ability to upload something on my own. I thought about a couple of my Platinum Mastermind members who are tech savvy, but decided not to bother them so early on a Sunday morning. Then I Googled for information and did find an excellent post from Jack Wallen, but it was over two years old and I wasn't sure the information it included was up to date enough for what I needed. Instead, I went to the largest real time forum and help desk I know…Facebook!
I stated my problem clearly and concisely, and within minutes I was receiving responses from a variety of people. You can see a screen shot of the conversation in my image here, or go directly to the Facebook thread to read it all.
Within eighteen minutes I had received the help I needed, including detailed steps from Melissa Ingold and a thirty-one second video from Gene Pimental. I logged in, uploaded my product files, and left for church. My morning was a success!
The lessons learned here include:
Never, never, never give up!
Think about your options and prioritize them
Ask for help from trusted friends and colleagues
If you need additional help, ask again
Implement what you learn immediately
Acknowledge those who have offered help
It takes a village to maneuver through our daily lives; tap into your village and create the life and business that will serve you best. I'd love to know your thoughts on this.