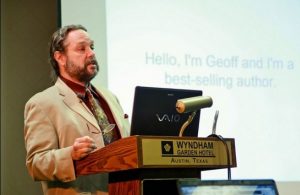 Geoff Hoff passed away recently, and the world will never be quite the same. Geoff and I had been friends since meeting at an event in Austin, Texas during 2009. Actually, we had met online almost a year earlier, but it wasn't until we were face to face that we were truly connected.
Within a year I had been instrumental in launching him to the world as a speaker, copywriter, and person to know if you were in the world of online marketing. He was a talented writer and storyteller and I like to think that I assisted him in sharing his gifts with a much wider audience than he had previously. It was my pleasure to be a mentor to him, but over time we experienced something of a role reversal as he began to play a more significant role in most of the work I was doing online.
With Geoff I was willing to step out of my box as an introvert and do some things I had not dared to do previously. This included singing a duet of "Sweet Caroline" with him in front of an audience of more than a thousand people at Armand Morin's Big Seminar in 2010, writing a full length book with him in only seven days in 2011, and hosting my own live events starting in 2012 after only doing this previously with Dr. Jeanette Cates. Geoff gave me the courage to put aside my fears and become my own person in so many aspects of my life.
Over the years we began to intertwine our businesses, and we both benefited from the collaboration. We wrote two books together, as well as compiling several books on a number of topics. This led to the creation of our publishing company, Hunter's Moon, through which we proudly published the work of a number of authors, primarily in the non-fiction, business genre.
We both continued to write on our own, and Geoff went on to write a sequel to the satirical novel he had written with partner Steve Mancini. These works were based on a comedy web series called Poor Paul, which is currently being made into a feature film. He and Steve, nominated in 2009 for a Webby for this writing, are even listed on the show's Wikipedia page, something I used to tease him about regularly.
But we were much more than business partners. Geoff and I had become close friends, confidants, mastermind partners, and so much more. It's difficult for me to imagine what life will be like now that he is no longer at the other end of the phone line. He was the kindest, most giving person I ever met, putting his own life on hold to help others in need. And he never said no when asked a favor by someone he knew. This past summer I emailed him from Europe to ask if he could pick me up at the airport the following day. He answered quickly that this would not be a problem, and took me to his apartment where I was able to shower, go online to do some things for my business, and make some phone calls before having him drive me to meet a colleague with whom I had agreed to connect with later that evening at a hotel near LAX. Without hesitation, and without asking me any personal questions about what I was doing and with whom, I waved goodbye and made the appointment I so needed to keep.
At the time of his passing Geoff and I had more than a dozen projects in the works. These included two new courses, another full length book, and a membership site.  He had a number of his own projects going as well, including a full length science fiction novel that I expected to be the best work of his career.
Geoff Hoff was much more than a writer. He was also a fine artist, a sculptor, an actor, and a director.  That one person could accomplish so much is such a short lifetime will continue to amaze me. I can only hope to be as productive as he was if I live another twenty years.
This year has been a difficult one for me personally, having lost several other close friends and family members within a very short period of time. What has been different with this is that Geoff's passing has been so public. Even though some of the others I have lost have been people who were in my life much longer than Geoff was, in each case I've been allowed to mourn in private. For the first three days after his passing I did grieve in private, along with his family, close friends, and those in my online Incubator and Platinum Mastermind groups who knew and loved him as well. After his brother posted about his death on his Facebook wall and mentioned me by name, I awoke on the forth day to hundreds of email messages, text messages, phone calls, and social media comments. This was new territory for me, and something that has definitely taken me out of my comfort zone. I finally know something of what it must be like for celebrities and others living in the public eye, and I do not envy their position in the least.
When I broke the news to our editor the question finally came up as to what was to become of a book Geoff had revised for release right after the first of the year. The most beautiful way to end something that you had wanted so badly to last forever is with a new beginning. The updated version of Poppycock will be released soon.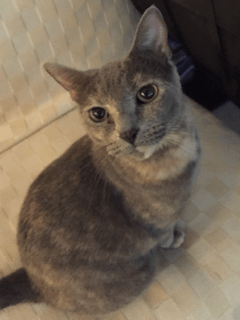 This is Maggie. She was – and still is Geoff's cat, but she lives at my house now. Maggie can be quite introspective at times, and is my constant reminder of Geoff. I like to think the two of them are in regular contact and that when she stares up into space they are having a conversation. We have been together for one year now, and I can't imagine life without her.