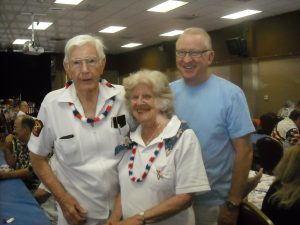 Harry Bell was one of the first entrepreneurs I met when I made the decision to come online and build an Internet business back in 2006. He had been an entrepreneur in the Santa Clarita Valley for more than fifty years by the time I met him, giving him a unique view of business. Starting out as an engineer in the 1950s and then becoming a real estate broker in the 60s, Harry had the opportunity to be a part of the ground floor of modern day entrepreneurship. I especially loved his stories of how he opened the first Century 21 franchise in the Santa Clarita Valley in the early 1960s, when women and minorities were not welcomed with open arms. He led the way for the fair treatment of women and minorities to enter this field more easily.
It wasn't surprising to learn that Harry was the person to break the color barrier in Rotary in California by inviting Ed Bolden, also my good friend, to attend a meeting back then. Many people quit Rotary when Ed joined, and Harry stood by his side to help rid our organization of prejudice.
Service Above Self
Harry was a part of many other service organizations as well, including the Elk's, Shriners, Masons (he was a 32nd Degree Mason), and the Chamber of Commerce. Harry had been flying since World War II, and I can remember hearing the stories of what that was like for him and the other men. Later on he bought his own plane, and through the Shriner's group he flew burn victims and other injured and wounded civilians, many of them children, to hospitals around the country. He also flew critically ill third world children to Children's Hospital in Los Angeles more than thirty times so they could receive life saving operations.
Living Your Passion
Airplanes and flying were Harry's passion, and that is what he was doing on July 5 when his small plane went down near Piru. I had just been with him the day before at the Elk's Lodge. We were having lunch after the 4th of July festivities of the morning, and it's still hard for me to believe that less than twenty-four hours later he would be taken from us. It was during lunch that day when Senator Buck McKeon stopped by to speak with Harry. I took what would become the last pictures ever taken of him. All of us who knew and loved him are still in shock over this terrible accident that took the life of such a good man.
Harry was chosen as the Santa Clarita Man of the Year in 2011. I sat next to him that evening and saw how surprised and humbled he was when they called his name. I'm so glad I made a video of this occasion to share with his friends and family.
Harry Bell – SCV Humanitarian, Entrepreneur, and Friend
I thought of Harry as a mentor, a trusted advisor, and a humanitarian. But, most of all, Harry was my friend. He will be missed and I will think of him often as I strive to emulate the life he was courageous enough to live so that others would benefit.