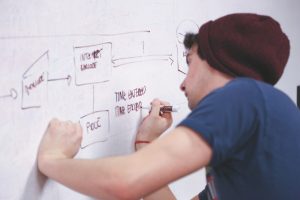 I taught school for twenty years. I'm not an English teacher, but then it was never my goal to be. For fourteen of my 20 years I had 5th and 6th graders. They are my favorite age group to work with in the classroom. Two of the years I had Kindergarten. They are not my favorite. Three of the years I taught math, science, and technology to middle schoolers and enjoyed that very much. And for one year I taught science and technology to high school students who had been asked to leave the regular classroom due to a variety of issues. They were challenging but rewarding students to teach.
Even though I taught in English and language arts was a part of the curriculum, I'm not an English teacher.
When I came online in 2006 I realized very quickly I needed to write in order to grow my business. Writing a blog post, even at two hundred fifty words was a struggle. My sentences did not flow. My paragraphs were awkward. My completed articles and posts felt incomplete.
Then there were the critics. They mainly lived in my head but they were there nonetheless. What would they say? What would they think? What should I do?
They, as I imagined this all unfolding were the teachers and administrators I had worked with in four schools over a twenty year period. I could hear them laughing at me. And then one of them would say "No wonder our students are in trouble; Mrs. Green can barely put a few paragraphs together herself."
I was taking responsibility for all of the children I ever encountered. More than ninety percent of them did not speak English as a primary language. They had no help at home. I'm not an English teacher…
Now I was just making excuses.
Enter Jon Morrow. Jon taught me how to improve my writing and kick those unwanted visitors out of my head. Jon gave me the confidence to write each day, work on the skills that would help me to succeed, and to take my writing as a serious endeavor. For this I will forever be grateful to him.
Jon recently updated a popular post "7 Editing Tips That'll Make You a Better Writer (with Examples!)" written by Shane Arthur and this is what it says:
You know your writing heroes? Would you be shocked to learn that their writing is no better than yours?

Sure, the end product is better, but the first draft is just as clumsy, flabby, and downright difficult to read as any of your own writing efforts.

What popular bloggers know that many people don't know (or don't want to believe) is that a post isn't finished simply because they've said everything they want to say. In many ways that's just the beginning.

Think of your draft as a rough diamond. Value is hidden inside it and you need an expert gem cutter to reveal its beauty and clarity.
Well, you could have knocked me over with a feather when I read that! I even read it out loud to make sure I understood what Shane meant with this statement. He then goes on to share "7 Editing Tips That Will Totally Transform Your Next Post" within this post and my favorite is Tip #3. Don't Cripple Your Descriptions with Feeble Phrases (Or: Avoid Weak Adjectives).
I am not an English teacher but now I am a student of English. This is effective for my goals as a writer. Shane ends with these words of wisdom:
Run each word of your post through this a checklist of editing tips. You will find something to improve. And your writing will be 100% more powerful as a result.

Because the search for perfection never ends.

And your writing is never too good.

Sure, proofreading and editing take time.

And yes, you're already busy enough.

But your writing heroes edit, and they land the guest posts, book deals, and exposure you only wish you could.

So, take a break from #amwriting and start #amediting right now.

Your success will thank you.

And so will I.
I'm not an English teacher, but I appreciate the English language and my opportunity to be a writer more than ever.
I'm author and marketing strategist Connie Ragen Green. See all of my published books here. Be sure to leave a comment on this post and to join my community by including your first name and primary email address at the top of the right-hand column of this blog. I want to connect with you!