The Life of a Profitable Domain
Your domains are assets and must be treated as such. They have the potential to earn you increasing income for years to come. I would like to share my experiences with the life of a profitable domain from a couple of perspectives and based on my own experiences.
I own hundreds of domain names. You may have a collection also. But are your domains consistently earning you lots of income, or at least as much as you believe is sufficient for your goals? Here are the 8 Steps you may substantially benefit from during the life of a profitable domain:
1) Forward your domain to a blog post – I've done this many times and until recently did it for each of my annual Productivity Challenges. Here is one from 2018:
http://ProductivityChallenge2018.com/
The above post is almost twelve thousand words in length.
2) Forward it to a thread on social media for social proof and interaction in real time.
3) Forward to a PDF report – I did this with the Productivity Challenge post – the report is HERE.
4) Forward your domain to an affiliate product – I did this in this post from three years ago and the sales come in consistently:
https://ConnieRagenGreen.com/mastering-online-business
It's the link near the bottom to the eBook training from Jim Edwards. My domain for that product is http://eBookWritingProfits.com and this domain has also had an incredibly long and profitable life as I use it in new and creative ways.
5) Use it for a squeeze page – this is where you go from affiliate to information product creator with your domain.
6) Use it to go directly to your "simple" information product. This is one where you solve one problem with one or two solutions.
7) Use it for your more complete information product.
8) Use it for your membership site around this domain's topic.
Advanced Strategies for the Life of a Profitable Domain
In 2008 I began to recommend Alex Mandossian's Teleseminar Secrets course. This was the most popular marketing training available at that time and Alex had already taught it two or three times before I became aware of it. It was only offered once a year and the course itself was massive; three months of live training combined with transcripts and lots of additional material. This training also came with a hefty price tag: it sold for two thousand dollars.
I felt so strongly that this course would make a difference for me I dipped into my meager savings and came aboard. This was only my second full year working exclusively online as an entrepreneur and I needed to make my mark if I was to succeed. The idea of using teleseminars to reach an audience was relatively new at that time, so I was getting in on the ground floor of something I just knew would appeal to thousands of others as it had to me.
Upon signing up for the Teleseminar Secrets course and clearing my calendar for the next three months to attend each session live (Alex encouraged participants to become a "one hundred percenter," meaning that you would be on ALL of the live calls offered twice each week) I simultaneously signed up to become an affiliate. Thinking back now, I'm not exactly sure which platform he was using. If I had to guess I would say it was InfusionSoft.
I logged in to the dashboard and figured out how to access my link. I knew little about redirecting domains and adding affiliate links at that time, but I did know how to forward a domain I owned and controlled to another link. I purchased the domain TeleseminarStrategies.com and felt proud of my accomplishment. Just a note here on domains; the word "strategies" was not a good choice because it is difficult for many people to spell and also not so easy to remember that it is the plural for your domain. You want to choose a domain name that rolls off the tongue and is easier to remember. And a side note here…during my first year as an affiliate for Alex's course and using this domain I tied for 10th place in his affiliate contest. This led to a phone call and an ongoing friendship and mentoring relationship that continues to be an important part of my journey as an online entrepreneur to this day.
Initially I forwarded that domain to my affiliate link for Alex's course and there it remained for the next two years. According to WHOIS (this is a query and response protocol that is widely used for querying databases that store the registered users or assignees of an Internet resource, such as a domain name, an IP address block or an autonomous system, but is also used for a wider range of other information. It was created in the early 1970s by American information scientist Elizabeth Feinler and her team. ) I registered teleseminarstrategies.com in March of 2008: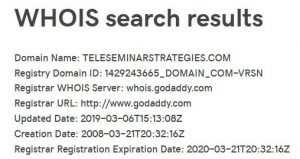 You can see that I continue to control this domain and as of right now it is registered through March of 2020.
I will continue with this Case Study for this particular domain and share the life of this very profitable domain. After forwarding it to my affiliate link for Alex Mandossian's popular course and earning well over twenty thousand dollars in commissions during that two year period, I moved to the next step in this process (my process was slightly different a decade ago) by then forwarding the domain to a blog post I wrote about my experiences with using teleseminars to grow my business. Within that post I shared a raw affiliate link to Alex's course by choosing relevant "anchor text" in the post.
The following year I forwarded the domain to a social media thread on Facebook. This allowed me to show social proof for the course and for my success along with that of many others who were in the course alongside of me.
Next, I created a short report, less than ten pages altogether and forwarded the domain. This was followed by forwarding it to a squeeze page I set up where visitors could opt in to receive the short report and more information about hosting their own teleseminars. Then it was forwarded to a simple product I had created on the basics of using teleseminars in your business.
In 2012, after four years of moving my domain around to serve me in the most advantageous and profitable way, I decided its highest and best use (a real estate term that is relevant here) was to forward it to the teleseminar service Alex Mandossian and two partners had created in 2007 and the one I continue to use today, through my affiliate link.
This choice makes sense for me because teleseminars are a part of my business, but not my primary focus. The company I recommend is Instant Teleseminar and my affiliate link – TeleseminarStrategies.com – continues to earn me many thousands of dollars each year in affiliate commissions. Recently I spent time with one of the other co-founders of this company, Rick Raddatz and had the opportunity to share with him and his wife just how important this service has been for me, my students, and my clients. I spoke from the heart and told him stories that made his face light up with joy and appreciation for what he had helped me to create without even knowing my story in such great detail.
This is another approach to this "life of a profitable domain" strategy:
1) Create a short report or choose one from your library of private label rights (PLR) content
2) Purchase a domain that you like and plan to develop into a product or course in the future
3) Upload your report to the cloud, using Dropbox or Amazon S3
4) Forward your domain to the report so that others may access it easily
5) Share your domain name with your prospects and clients
6) Create a product or course at that domain in the future
7) Your domain will be "seasoned" and will rank highly in the search engines
Here is an example of a domain I have been sharing in this way, using steps 1 through 5:
http://autoresponderEcourse.com (it promotes Aweber through my affiliate link – http://ConnieLoves.me/Aweber)
I hope the wheels are turning as you are reading this post. There are so many possibilities to use this "life of a profitable domain" strategy to work for you. Even though I have shared a step by step plan for how to use your domain, you can see from my own Case Study you can do whatever makes sense for you in each particular instance of using a domain for an affiliate product and beyond.
I'm author, publisher, and entrepreneur Connie Ragen Green and would love to connect with you. If you're new to the world of online entrepreneurship and "inner game" thinking please check out my training on how to sell yourself at Sell Yourself and Your Stuff and learn how to gain an unfair advantage when it comes to building a lucrative online business.