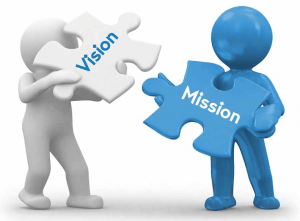 What are your Mission and Vision statements for your life and your business? If you've ever been involved with strategic planning you know that creating these two statements are at the very root of your goals and dreams. Let's take a look at how to think of and then structure your Mission and Vision statements as an entrepreneur.
Your vision is your dream and desired future position, if all circumstances were to occur under the perfect conditions. Whatever your personal dream is, it may be articulated by one or more vision statements. Your vision statements will consist of short phrases or sentences that convey your hopes for the future. By developing a vision statement early on, you clarify the beliefs and principles for yourself, and then for those around you.
These Vision Statements Must Be:
* Easily understood and shared by members of your community (online and offline)
* Broad enough to include a diverse variety of perspectives
* Inspiring and motivating to those involved in your effort
* Easy to communicate to a broader audience over time
An example is my own Vision for the work I do, which is "Helping others to become online entrepreneurs to live life on their terms".
Your Mission Statement
A Mission Statement defines your business, your objectives and your approach to reaching those objectives. Your Mission Statement describes what you are going to do and why you're going to do that. Mission Statements more concrete, and definitely more "action-oriented" than Vision Statements. Your Vision Statement should inspire and motivate people to dream; your Mission Statement should inspire and motivate them into taking massive action. They must be concise, action oriented, and inclusive.
My Mission Statement is as follows: "To inspire, motivate, and teach people how to become entrepreneurs through mentoring, training courses, selective resources, collaboration, and guided practice".
The combination of my Mission and Vision Statements help my students, clients, and community to remember what is important each day as we go about our daily activities and tasks. I wrote about this extensively in my bestselling book, Rethinking the Work Ethic: Embrace the Struggle and Exceed Your Own Potential.
Mission and Vision Statements are also very helpful in gathering people who are focused and bound together with a common purpose. Not only do the statements themselves serve as a constant reminder of what is important to your group, they also allow people to see the group as "theirs." This is just common sense in that the majority of people will believe in something more completely and take action more regularly if they had a hand in developing it.
Here are some inspiring Mission and Vision Statements from companies you may have heard of…
Patagonia: "Build the best product, cause no unnecessary harm, use business to inspire and implement solutions to the environmental crisis."
Sweetgreen: "To inspire healthier communities by connecting people to real food."
Cradles to Crayons: " … provides children from birth through age 12, living in homeless or low-income situations, with the essential items they need to thrive – at home, at school and at play."
IKEA: "To create a better everyday life for the many people."
There is another piece of this – the Values Statement – which describes what a group or organization believes in and how it will behave. I'll go into that in greater detail within another article.
You can see that developing your Mission and Vision Statements is the logical first step in developing the action plan that will guide your efforts. These must be well grounded in community beliefs and values. This ensures a strong, effective, and enduring group that will be inspired and motivated, both individually and within your group to achieve their goals and dreams and to reach their highest potential.
I'd love to read your thoughts on this topic in the comments for this post.
I'm online marketing strategist and bestselling author Connie Ragen Green. I work with entrepreneurs to create multiple streams of online income and would love to connect with you. Pick up my Online Entrepreneur's Blueprint and get started right away.