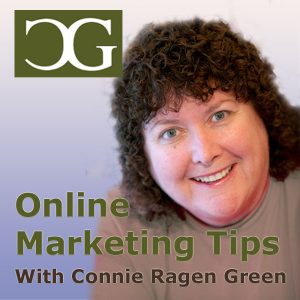 In this fourth episode of Online Marketing Tips With Connie Ragen Green, my new podcast series, I discuss the importance of connecting with other business owners from the very beginning in order to achieve success as an online entrepreneur. You can do this through Joint Ventures (JVs), paid online forums, and by attending live events.
I also answer questions on a variety of topics, including the importance and value of blogging regularly, creating an irresistible free giveaway so people will join your list, creating your first product, using article directories and distribution services, finding relevant PLR (private label rights) content, choosing the right niche to get started online, creating eBooks and books for Kindle and how to best start marketing them, and much more.
Be sure to download your Study Guide to follow along with the podcast. I will always be creating these to give you a frame of reference as to what I am discussing during that episode.
Be sure to subscribe to this new podcast series over at iTunes.
Podcast: Play in new window | Download
Subscribe: Apple Podcasts | RSS