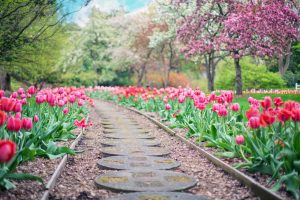 I spent the first fifty years of my life attempting to fit in, conform to the status quo, and not stand out. That did not suit me well and certainly did not work to help me achieve a joyous or prosperous life. If you have ever done the same or something similar, you know what I mean. That finally led me to what I am sharing with you here, on reinventing your life and business.
Finally I'd had enough of living a life of mediocrity and decided to do something about it. This all came to a head during the three months leading up to my 50th birthday and I made the conscious decision to reinvent my life. My thinking was that if what I had always done was not working, I didn't have anything to lose if I tried some new strategies and approaches to my life.
The rest is history, as these days I'm able to achieve goals that still scare me, and to help others with doing the same in their lives, work I am most proud of and that gives me purpose and humility.
So, what exactly did I do to bring about these great changes in my life? Here's what I mean when I discuss reinventing your life and business:
You must develop an attitude of gratitude. What does this mean? It means that you must be grateful for every drop of water and morsel of food and piece of clothing you possess. You must thank God each time someone smiles or says hello to you. You must say a silent "Yes!" when you are chosen to do something you wanted to do, no matter how small or how special it is. In general, you must spend every waking moment as a kind, generous, caring, grateful and thankful human being, loving and appreciating your circumstances as they are right now if you expect anything to change in your lifetime. I teach a strategy to my students where they pretend the job or business they currently have is bringing in a million dollars net. They learn to love and appreciate the work and are willing to do whatever it takes to accomplish their goals each day. Once they fully embrace this idea they are then able to build a new business that is successful and brings them joy very quickly.
When you reinvent your life and business, adapt new habits and thinking. Get enough sleep, read daily, and interact with the people you would like to do business with each day. Maintain a positive and focused outlook and attitude at all times, especially in the face of diversity.
Constantly upgrade your thinking and knowledge as a part of reinventing your life and business. Read more, listen to podcasts, have face to face conversations with people who matter to you. All of this will have a snowball effect over time and you will have elevated your status.
And this is not a temporary state of thinking and acting; this must be your attitude for the remainder of your life and you must model this behavior and attitude to the point where everyone around you can see and feel the difference and the energy that now surrounds you. If and when you take this on your life and the lives of those around you will be forever changed. Think of this as winning the spiritual lottery, where all of your hopes and dreams are manifested almost before your thought is complete.
Yes, this reinvention will challenge your heart and your mind as you drift back to your previous ways. But reinventing your life and business requires discipline and you are up to it.
Every few years I reinvent my own life, and I am going through that process again right now. This can be a painful process in many ways, but when you come out the other side you realize that your life's work is about so much more than just you or your current circumstances. The ripple effect holds great possibilities for people you will never meet, who may live on the other side of the world.
Here are some things to think about if reinventing your life and business is on your "to-do" list right now…
Our ability to succeed is always proportional to our willingness to fail. Put blinders on to everything that can hold you back, especially your own thoughts or fears.
Think more about making a life than making a living. Begin with the end (your long-term goal) in mind and reverse engineer the steps that will take you there. Work with a mentor to achieve this more easily.
As Seth Godin stated so eloquently in a recent post:
"…we set up our projects and our life in a way that makes it always an uphill slog. If you don't build an asset and don't invest in your reputation, all you've got left is grunt work. The hard work is digging in deeper than usual on the uphills – that's the best chance you have to earn a downhill later."
This theme of reinvention has certainly resonated with my community. I do not believe I have ever had more people hit "reply" to one of my emails to share their thoughts and experiences in this way when I began sharing my thoughts with everyone.
Yes, you can and must think about reinventing your life and business regularly. It's a natural part of our growth process, yet too many people have stagnated because of the stories they tell themselves. You may be familiar with some of these: too old, too young, no college degree, too much formal education, grew up poor, grew up privileged, too much competition, and on and on. Tell a different story and your life will begin to change very rapidly.
Remember that a belief is only a thought you keep thinking, so whether you think you can achieve anything or believe that you cannot, either way you are correct.
"You must master a new way to think before you can master a new way to be." ~ Marianne Williamson
Please, please read this over a few times and let me know what you think and how I may serve you during your own reinvention.
I'm author, publisher, and entrepreneur Connie Ragen Green and would love to connect with you. If you are new to the world of online entrepreneurship please check out my comprehensive training on how to set up Funnels That Click and learn how to gain an unfair advantage when it comes to building a lucrative online business.