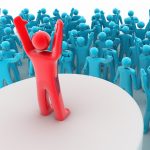 If you are looking for small business training – free and low cost – it's available online and in your own backyard. We all must make the time and effort to learn about different aspects of our business in order to stay competitive in the marketplace. Fortunately, we live in a time where access to the most up to date and relevant training is readily available, as long as you know where to find it. There are both local and online training programs available on a plethora of business topics.
In the two cities I call home, Santa Clarita and Santa Barbara, we have a variety of ongoing classes to choose from that are taught by professionals who wish to give back to others in our community. These Adult School programs are very good, and I've taken classes at two high schools, as well as through the City of Santa Clarita's Seasons program and the Santa Barbara City programs to sharpen my skills, connect with others, and to learn more about topics that will help my business to grow and thrive.
These programs offer classes in basic accounting and using Quick Books, as well as classes in marketing, computer basics, digital photography, and social media. Additionally, they offer classes in home publishing, blogging, article writing, making money online, as well as training in Microsoft Word, PowerPoint, and Excel. Both of these programs run all year long. Find out about the classes being offered in your city. If you aren't taking advantage of this low cost education right in your backyard, then you're missing out on a great opportunity.
The community college system -College of the Canyons in Santa Clarita and Santa Barbara Community College – also offer a variety of business training classes through their Small Business Development Center and other specialized programs. Some of the classes they have offered during this past year include Trade Finance and Insurance, Quick Books Boot Camp, and Essential Steps for Writing a Business Plan.
Meetup groups are also an excellent way to get free small business training and help in an informal setting. There is an active Meetup group for online marketers in Santa Clarita. I attend these meetings periodically, depending on my schedule. I've also been the presenter there a few times. Find a group that meets your needs at by googling for the information.
If taking classes and connecting with others in person is not appealing to you, you'll want to check out the online resources that are available. I started out this way when HP made classes available back in the 90s. I learned so many things that helped me to become an online entrepreneur. They changed their site a couple of years ago but now have it back again with even more free course offerings. You can 'Google' for the direct links to sign up.
I also belong to two groups that have made it possible for me to grow my business exponentially. Whether you have an offline service business or want to start working online, both of these sites are excellent for getting you started in the right direction with a network of people who are already and willing to help you move forward.
The first group is called NAMS (Novice to Advanced Marketing System) and you can read more about them at http://MyNAMSmembers.com. I've been a permanent faculty member since 2011 and hundreds of people have come through my trainings since that time. They also meet in person twice a year in Atlanta. The founder of this group is David Perdew.
The other group is called Earn 1K a Day and was founded by Dennis Becker in 2006. It consists of a forum and membership site, as well as a live event held in Las Vegas every July. I'll be speaking there again this year and would love to see you there. The details of this are at http://SuperSummerGetaway.com.
Whether you meet with people locally, travel to live events in other parts of the country, or take online courses, building your business will go more smoothly when you get the training you need.