How and Why to Start Using Virtual Focus Groups in Your Business
Focus groups are one of the most effective ways to collect data about your target market, and virtual focus groups make it a simple process to implement. A virtual focus group is an event where people get together to talk about a specific topic. Think about this as a strategy that will ultimately increase your visibility, credibility, and ultimately, your profits.
The idea of being able to interact with your target audience before you create a new product, course, or program is one that makes sense on many levels. Here, I'll share the most cutting edge, innovative, and effective strategies with you so you may make an educated decision as to how to structure virtual focus groups into your business.
Companies use them to gain in-depth insights such as:
Feedback on their products and services, including product design, new products, features, packaging, and pricing.
Overall customer satisfaction and customer experience.
Perceptions of the company's brand.
The effectiveness of marketing campaigns.
Trends in the market.
The expected future needs and concerns of customers.
The disadvantage of focus groups is that they typically require a great deal of resources to run. However, any business no matter what size can benefit from holding focus groups virtually.I want to note here that you may wish to get started with the free version of a new video editing tool called Descript. Instead of paying an expert to edit your videos, you'll quickly be able to do this yourself. My own video marketing expert and mentor uses this now and gives us regular examples of what he's learned as they continue to add new and exciting features that are simple to implement.
The Top Reasons Virtual Focus Groups are Quickly Becoming the Norm
1. In-Depth Responses
The main advantage of focus groups over other data collection methods is that they reveal more in-depth insights and qualitative data. You can learn a great deal through surveys or questionnaires but focus groups gives respondents a chance to elaborate. As moderator, you can ask follow-up questions to reveal further insights.
The environment of the focus group can also help to give you more information. The event is held in a relaxed environment where participants are encouraged to express their feelings and experiences. The group dynamics allow other participants to build on what was said or ask further questions themselves.
In a virtual setting where people are joining from home, the environment can be even more relaxed and open. Attendees have the option of offering a comment anonymously, which can lead to even more sharing.
2. Cost Savings
One disadvantage of in-person focus groups and live events is that the costs can be prohibitive. Expenses usually include travel expenses, venue rental, refreshments, and any help you need to hire recording answers and running tech, as well as an incentive paid to participants. A focus group can easily run into thousands of dollars. These costs make it difficult for small businesses to hold focus groups.
Virtual focus group costs much less. There are no rental, travel, or refreshment fees, and since participants do not need to travel or take time off work, you can offer a smaller incentive.
3. Convenience
A major advantage of going virtual is convenience. Sessions are held over video teleconferencing software like Zoom or Google Meets which are easy for participants to access.
You can conduct research anywhere and at any time. Your participants can join from the comfort of their own home or whilst on the move. This offers much more flexibility in scheduling for your attendees.
Since the online environment eliminates the logistical challenges, you can hold shorter sessions on a more frequent basis, which allows you to multiply the results of your efforts.
4. Virtual Features
The video conferencing platform you use offers features that can enhance the session including:
Pre-recording. Pre-record presentations and other parts of the session that don't require you to be live.
Screen Sharing. You can easily show images, videos, prototypes, or websites to participants.
Live Chat and Messaging. Attendees can communicate with you or others through a variety of means like live chat and messaging. You can use them to lead discussions or give instructions.
Visualization Tools. Tools like virtual whiteboards help you share ideas and brainstorm.
Polls and Surveys. At any time during the session, you can run a poll or survey to quickly gather opinions.
5. Wider Reach
Virtual focus groups give you the ability to reach a wider segment of the market. You can include segments who can't usually attend, like busy executives. Since there are no geographic restrictions, your session can include people from all over the world.
Wider reach means you can have a larger sample for your research and get even more robust, accurate data.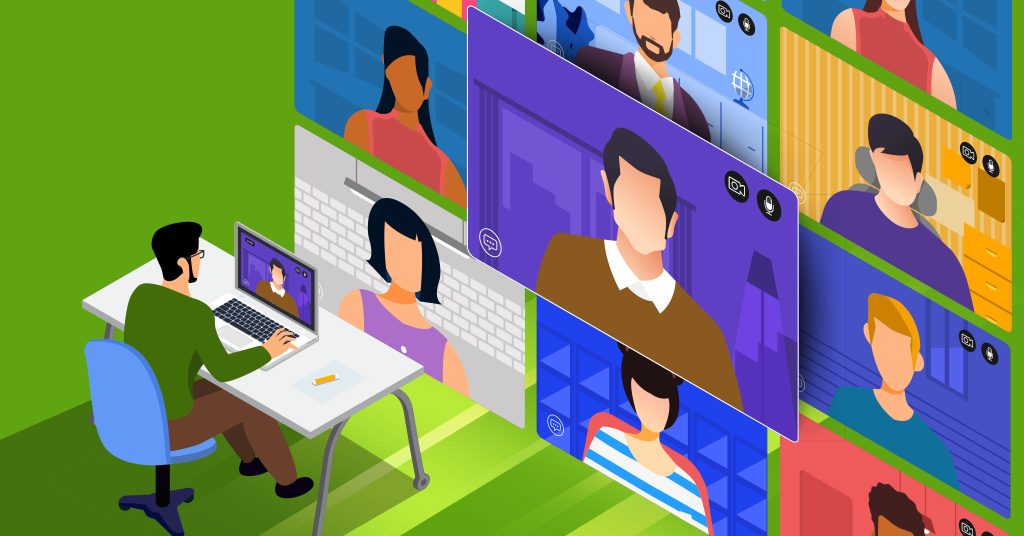 Set up Your Virtual Focus Group
Does a virtual focus group sound like it would be useful for your business? Here are the steps for setting up your virtual focus group so you can get started today.
1. Set Goals
Start by setting clear goals. Identify learning objectives you'd like to gain through this research. What questions do you need to be answered? What insights do you need?
For example, you may want to know what customers think about your new product line or new features. Or, you might want to gather customers to find out how they feel about the purchase process and support your company offers to see where you can make changes.
Be as specific as possible so you can target the right segment of the market for your session.
2. Recruit Participants
Reach out to your social media followers, list subscribers, blog readers, YouTube subscribers, and current customers, and invite them to participate. You can also place targeted ads with online advertising platforms. Another option is to use online market research panels, where people sign up to participate in focus groups.
Once you've gathered possible participants, you need to screen them so you can find the right people. This is usually done through surveys. Identify the key characteristics you need for the type of person who can reveal the insights of your objective. Create a survey with key questions for screening.
Recruit and screen more people than you will need for the focus group as some will drop out or fail to confirm.
3. Follow up
Next, follow up with the best candidates. Send them a confirmation email with the date, time, location, topic, and details on the incentive you're offering.
After participants are confirmed, send further reminders and confirmations as the time gets closer. It may seem like overkill, but people forget easily and if any participant is going to cancel, you should know it as soon as possible.
Getting Started with Virtual Focus Groups Today
Virtual focus groups can help you learn more about your target market and make improvements that will boost your sales and help build better relationships with your customers. Start by asking yourself: What do you need to know about your market right now?
I'm bestselling Wall Street Journal and USA Today author, independent publisher, and serial entrepreneur Connie Ragen Green and I would love to connect further with you. If you have an interest in hosting video live streams, even if you're an introvert, to help you skyrocket your way to success, please check out my comprehensive training for beginners at Video Live Streaming for Introverts so you may get started right away.