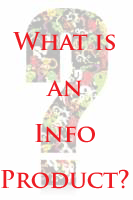 An information product can be defined as a communication of information via various types of digital media such as eBooks, webinars, teleseminars, online audio and video, website content and much more.
These products are more commonly known as "info products" and have revolutionized the way people are able to learn and obtain the information they want and need on the internet. And more importantly, info products are an excellent way for online entrepreneurs to create and distribute their own products, courses, and trainings.
Perhaps what I appreciate most about information products is my ability to make changes so easily. For example, if I create a short report or a book for Kindle and see that there is a mistake or a typo I can simply make the change, save the file, and upload it again. This is in sharp contrast to the traditional way of having your content already printed and having to print it all again to correct a mistake.
Another benefit of information products to deliver your information and training is how quickly you can connect with your students and clients. I can host a live webinar training and within an hour I have provided both the webinar replay and the audio in mp3 format in the member's area for that training. Someone halfway around the world will be able to download and access the information they have paid for immediately (if they are on the live webinar) or within an hour if they are waiting for the replay.
And an information product will always consist of electrons, so there is nothing to store. Long ago we would have to store books, CDs, and other materials and wait for them to sell. Fulfillment was also an issue, as someone had to take the packages to the post office or have them picked up by a delivery service. This was all time consuming and expensive, not to mention inconvenient. So digital products changed everything for online entrepreneurs.
If you are considering creating an information product of your own, make sure you are providing a product your target audience will benefit from. The fact that it will be digital must not affect the quality of your information and training. Delivering it through a membership site works best in terms of product security and perceived value.
Think of your idea, do some research, and then get busy creating a product you will be proud to call your own. You may want to start by writing and publishing an eBook on your topic, and then add to your product by teaching a webinar or teleseminar. Add some worksheets, checklists, and a resource guide and your product is sure to do well on the internet. The world of information products is one that will be lucrative for years to come.
I'm Connie Ragen Green, online marketing strategist, bestselling author, and international speaker on the topics of entrepreneurship and inner game mind shifts. Let's connect to see how I may best serve you in the near future. And please be sure to check out my Really Simple Info Products training course to get started right away.