How To Write An eBook
The question I am most often asked is on the topic of how to write an eBook. There is not a definitive answer to this, but I will tell you that it is extremely worthwhile to write an eBook as a part of your online business. Reasons for this include:
Becoming a published author on your specific topic
Being seen as an authority in your niche or industry
To have something to give away at no cost to attract new prospects
To sell for profit, on your own site of through Amazon's Kindle program
When you go back before 2008 or so the idea of publishing your own book was not something most people thought of as a possibility. Self-publishing took off as I was coming online and getting my bearings, but eBooks are still more profitable overall. The truth is that eBooks have been around for almost twenty years now. My friend Jim Edwards was instrumental in taking this concept mainstream when he began writing, publishing, and marketing his own eBooks back in 1997. Knowing how to write an eBook is life changing!
You may download a Special Report I put together with some of Jim's guest posts for me on this topic. Please let me know if you are putting this all to work for you as an online entrepreneur.
And as far as publishing your own eBook, whether it be on your own website or for the Amazon Kindle program, it's not a particularly complicated process. And when you look back after writing and publishing your first eBook you will see that the writing is actually the easy part.
The most important part of this process is building your platform and marketing your eBook before, during, and after it is written. I have done this successfully with more than twenty books, and you can take a look at them here.
The truth is that it has never been easier to do this, and knowing how to write an eBook and build up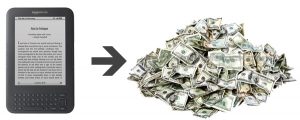 a business around it is an excellent way to change your life and become an online entrepreneur. Even if I did not create any other information products, online training courses, live workshops and events, as well as my Online Marketing Incubator and Platinum Mastermind programs, the income generated from my books would easily replace what I used to earn before coming online. I attribute much of my knowledge and expertise in this area to what I have learned over the years and continue to learn from Jim Edwards 7 Day eBook program.
He also shares tips and resources for using search engine optimization strategies (SEO) as you write your eBook, and you will learn how to repurpose your eBook's content before, during, and after you publish, along with online and in person marketing strategies that will make sense for you and your niche topic.
I blogged my first book, and this may be a strategy that will benefit you as well. I knew what I wanted to say, and I started writing blog posts about each point in my outline. When I got to twenty-five I turned this into an online course, and when I got to fifty blog posts I turned it info a full-length book that is still for sale to this day.
So before you think about having your book published by a traditional publisher or self-publishing it as an eBook, check out Jim's completely updated training course. The main PDF file is over five hundred pages of detailed, step-by-step training, and the course also includes additional webinar replays and more. This training course will change your life and give you options as a published author and online entrepreneur.
I'm bestselling Wall Street Journal and USA Today author, marketing strategist, and entrepreneur Connie Ragen Green and I would love to connect further with you to help you to achieve your goals. If you are interested in learning how to optimize the syndication of your content, please take a look at my popular Syndication Optimization training course and consider coming aboard to increase your visibility, credibility, and profitability.