The Magical Benefits of Offering Client VIP Days
My new mentee, Joyce, was a web designer who helped female entrepreneurs create digital commerce shops. With her help, clients could create websites that allowed them to sell their products at any time of day or night. They could easily fill orders, accept payments, and process returns. Initially, offering this help as part of a "Client VIP Days" strategy was the furthest thought from her mind.
She loved getting to set up her clients with their new shopping cart software. But after a while, she noticed a trend. It took her clients weeks to learn how to use the software and even longer to become confident with it.
Since she wanted to flatten that learning curve, Joyce decided to do something she'd never done before. She began offering her clients a VIP day. For one full day, a client would fly to her location and get one-on-one tutorials while they worked together on her website.
Although she was nervous about this offer, Joyce decided to open it up to the first three clients that responded. She was delighted when all three spots were filled within twenty-four hours by clients that were eager for her knowledge and insider training.
Joyce knew she was on the right track after she'd completed the VIP day with each client individually. She watched as her clients walked away with the confidence and the courage to tackle their own website management.
What Is a Client VIP Day?
During a client VIP day, you take off the whole day to spend it with one client exclusively. This may involve you traveling to spend time with a client in-person, or they may come to you. If they come to you, you'll want to set up a comfortable space where you can work together.
The length of a client VIP day can range from three hours to eight hours depending on what you're trying to accomplish with your client. Some VIP client days may only need a few hours so don't feel pressured to expand the day. Instead, focus exclusively on the one goal so your client walks away feeling excited and energized by your time together.
To help make sure that you can accomplish the project in the estimated time, you'll want to run through it as a test. This is important because you might complete the project in eight hours and think that will work. But what you're not taking into account is the fact that having a client with you will slow you down as you stop to explain new concepts and answer questions.
If you realize your goal is too large for a VIP day, you'll want to think about how you can size it down. For example, you might plan to set up a client's website, ecommerce shop, and blog all in one day. But after running the testing, you might see this just isn't possible. In these cases, you'll want to ask what's the number one thing that your client wants to accomplish. Maybe they care more about having an online shop than they do a blog. If that's the case then you'll want your VIP day to be all about ecommerce.
What Topics Can You Cover?
My favorite VIP days with me mentees are the ones we do at the end of every year. I call them "Visioning Workshops" and we focus on getting clear  about what they wish to create and achieve with their online business. I use visualization and help them to create a vision board that will make it easier to see what they want as a part of their life experience and what's stopping them and getting in their way.
Anything you can imagine can be the basis and starting point for a VIP day you will create and offer your clients. Allow your imagination to run wild and makes notes about what and how you envision your special day going for you and for the clients you will serve,
What Are the Benefits of a Client VIP Day?
There are many benefits of a VIP day for both you and your client. It's not about the money or even what you accomplish together. What it's really about is your client having direct access to you and your expertise. By having you on hand, a client is able to do tasks that they would normally struggle with.
Another benefit of a VIP day is more profits for you. Your expertise is valuable and VIP clients recognize this, so they're willing to pay premium rates. Additionally, a client VIP day allows you to see firsthand what your clients need from you and how you can best serve them.
A VIP day also makes you look like an expert in the eyes of your clients. You can use this to your advantage by gathering testimonials and featuring case studies to show your audience that you know how to get the results they crave.
What About a Virtual VIP Day?
Just like you can offer a VIP day where clients come to meet you or you meet clients, you can also offer a virtual VIP day.  You'll still spend the same amount of time with your client, and you'll still have the same goals. However, you'll be relying on technology like webcams and cell phones so you can see each other as you work.
It's important to remember that a virtual VIP day may not be a good fit if you're in a location where you don't have access to a stable internet connection. Or if your client needs hands-on experience. And, meeting in person when possible is a joyous and memorable experiences that solidifies relationships.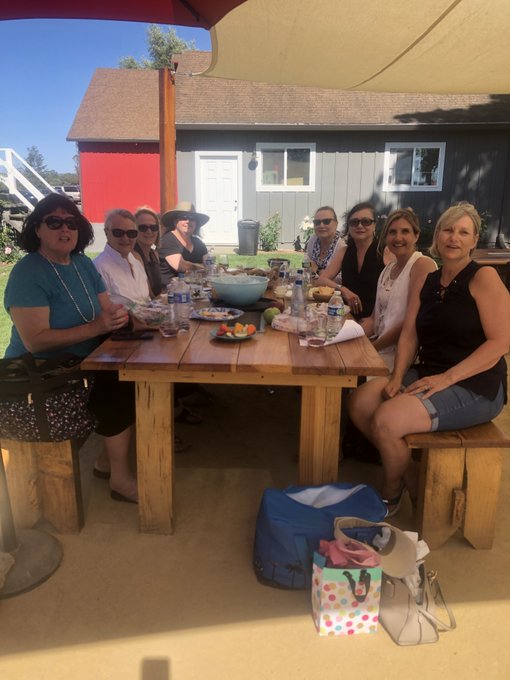 Who Can Offer a VIP Day?
You might think that just because you're a service provider like a web designer or content marketer that offering a VIP day isn't for you. But the truth is anyone can host a VIP day because there are many different ways to host one.
For example, some service providers will have a special VIP day where they work exclusively on one client's projects. You might start your VIP day with a call where you connect with the client to establish their goals for the day. Then at the end of the day, you touch base and have a second call so you can talk about what was accomplished and what the next action steps should be for your client.
You can also offer a VIP day if you're a coach. However, your VIP day should be centered around your area of expertise. If you are a health and wellness coach, then it doesn't make sense for you to offer a VIP day of website design. You haven't connected with what your audience truly needs and wants from you.
What Should I Remember When Planning a VIP Day?
Before you show up at a VIP day, there may be certain materials that you need from your clients. If you're working on helping them with a rebrand, then you might need materials such as their existing logo, the brand's color palette, and any fonts already in use.
But if you don't get this material, then you might be scrambling on VIP day. To prevent this from happening, you can make a note in your contract about which materials you need and when you need them by. If clients don't provide this within two business days before your call, then you can reserve the right to reschedule for another day.
Another thing to keep in mind is that you'll want to schedule breaks during your working day. This means you won't have a complete eight hours to work with your client. In this case, if you want two one-hour breaks, then you'll only have six hours to accomplish your goals with your client.
Also, it's standard to ask for payment for a VIP day before the actual work is done. This is common in the industry, and it protects both you and your client. It protects you by ensuring you get paid. It protects your client by ensuring they have a slot on your schedule. This creates a win-win for both of you.
Hosting a client VIP day can be a wonderful and magical experience if you do it correctly. You'll discover more about your unique strengths as a coach or service provider.
I'm bestselling Wall Street Journal and USA Today author, independent publisher, and serial entrepreneur Connie Ragen Green and I would love to connect further with you. If you have an interest in hosting video live streams, even if you're an introvert, to help you skyrocket your way to success, please check out my comprehensive training for beginners at Video Live Streaming for Introverts so you may get started right away.