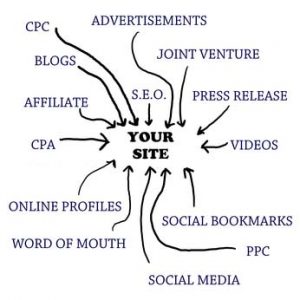 I was reading Marlon Sanders recent post on getting traffic to your blog and wanted to share that with you. The image on the left is his infographic on this that he so kindly gave me permission to share. In it he explains the three primary sources of driving targeted traffic to your website or blog. These include:
Organic traffic from the search engines – Marlon says that Google Webmasters is your best friend, and also have steady and consistent content (such as I am doing here with blog curation).
Paid traffic – This includes pay-per-click from Google Adwords or Bing, Facebook and other services, as well as something known as Retargeting.
Traffic from your affiliate program – start with a simple product and build it up over time.
I love to see increasing numbers of people visiting my sites each month because I've made the effort to share my content and ideas, as well as sharing excellent information from others.
Marlon has a 5 Day Fast Start Course that I am finding extremely helpful. If I'd had access to this type of training when I was just getting started online, my journey would have been a much different and more lucrative one. Let me know when you pick it up and I'll schedule a thirty minute laser focused call with you within a week to ten days.